Our Team
Karen Bontrager
Account Engagement Associate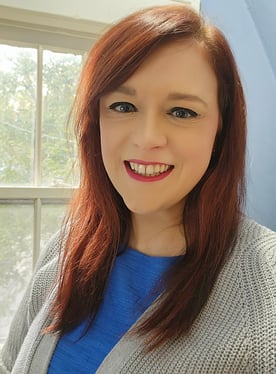 Writing has formed the foundation of Karen Bontrager's career, including her roles as an English 101 instructor, writing tutor, institutional researcher, and chief of staff to a university president. She's excited to contribute her exceptional composition skills—and more than a decade's worth of experience in higher education—to her role as an Account Engagement Associate with Credo.
A Penchant for Problem-Solving
Karen feels particularly energized when she's part of a team collaborating to solve problems. Fortunately, this is what she does every day, as she supports the efforts of Credo's sales team. You'll often find her writing for a variety of projects, including sales proposals and external relations assets.
I am so excited to work with this amazing team of people to impact the leaders and learners across higher education.
Growing a Strategic Skill Set
In addition to being a stellar writer, Karen's time as the chief of staff to the President of Bluffton University deepened her strategic thinking skills and taught her to find efficiencies in complicated systems. Her colleagues rave about the dedication and consistency she brings to her work.
Fun fact about Karen: She grew up among cornfields in Iowa on a farm that her family has run for four generations!
More About Karen
Education & Certifications

M.A., English, Southern Illinois University, Carbondale

B.A., English, Bluffton University

Chief of Staff, Bluffton University
External Relations Team
Karen Bontrager is part of the External Relations Team. She is proud to work with this team of talented individuals.