Our Team
Roland Bullard, Ph.D.
Senior Consultant for Leadership Strategies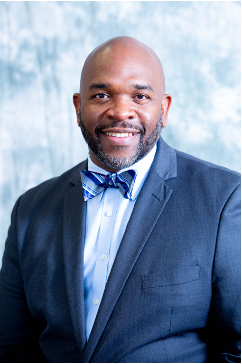 Roland Bullard's (he/him/his) approach to higher education leadership strategy is rooted in the 20+ years he spent working on campuses throughout the Southeast. His subject-matter expertise encompasses many student success areas, from conduct to housing, from study abroad to health services. An adept communicator and problem solver, Roland's leadership appointments have included strategic planning, task force leadership, crisis management, and community engagement.
A Seasoned Approach to Leadership and Strategic Planning
The breadth of Roland's on-campus experience—including more than a decade at the executive cabinet level—is an invaluable asset to our college, university, and organizational partners. Roland has been on 'both sides of the house' in academic and student affairs, allowing him to speak the language of faculty while navigating the global issues of serving in campus administration. Similarly, at Credo he served five years as an Affiliate Consultant on the Student Success team, advancing the MTN project. He has now transitioned to a Senior Consultant for Leadership Strategies position with the firm. In this role, he works with governing boards, presidents, and cabinets to implement strategic planning projects. He also leads innovation and change-readiness conversations across the institution and provides professional coaching for executives.
Experiencing higher education can be incredibly transformational. I am passionate about our shared responsibility in higher ed to lead transformationally and courageously, steward resources, and make strategic choices that result in successful outcomes for our students and communities.
Committed to Lifelong Learning and Service
In addition to his on-the-job experience, Roland has earned graduate certifications in nonprofit management, professional fundraising, and student success analytics. He is also active in nonprofit governance in his local community as well as professional organizations having served as: President of the Southern Association for College Student Affairs, and the South Carolina Housing Officers' Association, the Board of Directors for the Florida Atlantic University National Alumni Association and is Vice Chair for the international nonprofit, The Melton Foundation. Locally, he volunteers for the Children's Youth and Planning Board, the Committee for a Better New Orleans, and STEM NOLA, a nonprofit focused on exposing young people to STEM careers.
More About Roland
Client & Project Portfolio

Strategic Planning

Baltimore City Community College

Lane College

Roanoke College

Spelman College

Moving The Needle

Averett University

Emory and Henry College

Houston Christian University

Siena Heights University

University of St. Francis

Education and Certifications

B.A., Communication, Florida Atlantic University
M.Ed., Higher Education and Student Affairs, University of South Carolina
Ph.D., Higher Education and Policy Studies, Indiana University
Certification in Diversity, Equity, and Inclusion in the Workplace, USF Corporate Training and Professional Education
Certification in Student Success Analytics, California State University
Certification in Nonprofit Management and Fundraising Management, Indiana University-Purdue University Indianapolis
Certificate in Professional Fundraising, Boston University

Vice President for Student Success, Dillard University
Executive Dean, Florida State College at Jacksonville
Vice President for Student Development and Academic Dean, St. Augustine's University
Academic Dean, College of Distance and Continuing Education, Charleston Southern University
Harvard University Fellow, John F. Kennedy School of Government

StrengthsFinder Profile

Strategic

Activator

Ideation

Futuristic

Intellection

REACH Style | Coach
Leadership Strategies Team
Roland is proud to work with the integrated support of the Leadership Strategies and Student Success Teams.