Our Team
Sean McGreevey, Ph.D.
Senior Consultant for Student Success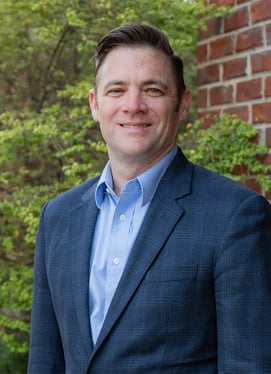 Sean McGreevey (he/him/his) spent his 22-year career on campus working in just about every area of student affairs you can think of. No matter his role—from residence life to student health services; from campus recreation to diversity, equity, and inclusion—and no matter his title—from assistant director to director to dean, Sean has devoted his professional life to facilitating student success.

A Solutions-Oriented Approach to Campus Change
Sean's student affairs experiences were the perfect preparation for his work a Credo Senior Consultant. His deep expertise helps our Moving the Needle partners facilitate culture change, foster collaboration, overcome resource challenges, and reach their retention goals. Chief among Sean's many talents is an ability to help clients identify the near-term strategies that will make the biggest impact on student success.
In the vast landscape of the student experience in higher education, I most enjoy discovering opportunities to make an impact.
Adventure Awaits
Coworkers and clients describe Sean as driven and passionate—qualities he brings both to his work and his favorite hobby, whitewater kayaking. Sean graduated from the National Outdoor Leadership School and is certified as a Level IV Whitewater Kayak Instructor. When he's not riding the rapids, he enjoys spending time with his partner Caroline and their dogs, Gertrude and Mildred.
More About Sean
Client & Project Portfolio

Moving The Needle Clients:

Averett University
Bluefield University
Carson-Newman University
Charleston Southern University
Emory & Henry College
Misericordia University
Roanoke College
Schreiner University
Texas Lutheran University
Wittenberg University

Education & Certifications

B.A., History, Henderson State University

M.A., College Student Personnel, Bowling Green State University

Ph.D., Higher Education, University of South Carolina




Dean of Students, Bellarmine University
Assistant Dean of Students, Assistant Dean for Career Development, Chatham University
Director of Residence Life, Young Harris College
Assistant Director Residence Education, Residence Life Coordinator, University of South Carolina
Director of Member Services, Phi Sigma Kappa Fraternity
Graduate House Director, Phi Mu Sorority, Bowling Green State University

StrengthsFinder Profile

Communication

Futuristic

Competition

Woo

Activator

REACH Style: Coach

Myers-Briggs: ENFJ
Student Success Team
Sean is part of the Student Success Team. He works alongside this team of talented people.