Pivoting To a Stronger Future
Marian University in Indianapolis, Indiana, is an institution that models courage, risk-taking, and innovation. As Marian has grown, the campus and leadership have continually sought to improve the student experience and meet their students' needs, as well as benefit the greater Indianapolis community in the process. Marian's model of partnerships, internally and externally, has resulted in increased student retention—so far an increase of 14 percentage points—and exponential growth for a sustainable future.

Read on to find out how!
Part One
How can we best support students, increasing their success & retention?
As a Franciscan institution, Marian University has a strong sense of calling – modeling courage, passion, and compassion to help all students succeed. Providing access is one thing. Improving retention is another. And, with a student body that includes approximately 30% Pell Grant recipients, many might consider a cap on retention goals.
Many, but not Marian.
With previous successful partnerships in strategic planning and enrollment, Marian invited Credo to facilitate a Moving the Needle (MTN) project designed to improve retention rates. MTN supports and augments an institution's retention efforts through a series of targeted workshops and modules that focus your entire campus around a holistic, community-based approach to support student success. As the institution strengthened its internal partnerships, focusing on the success of their students, they began to see results.
After all, retention takes a campus.
"We wanted somebody that was going to partner with us in this journey to retention for students. Some consultants give ideas and leave. Other consultants will solve your problems if you let them run your shop for a year. Credo uncovered opportunities, gave us ideas, and then they've been partners with us on the journey. They've stayed with us. It's a partnership,"- Tom Enneking, Executive Vice President and Provost, Marian University
When students succeed, Marian succeeds.
As a result of the entire campus community leveraging around retention, Marian's first-time, full-time retention numbers skyrocketed from 69% to 83.9% since they began this MTN project. Marian worked hard to bring administrative groups together as a team to serve the student, implemented Early Alert to identify students who are at risk sooner, and created a Center for Academic Success and Engagement. These were instrumental in the first-time, full-time retention increase, as well as positively affecting student involvement and bills being paid on time.
Marian continues to improve their retention metrics as they serve their students well, and holistically support them through their educational journeys.
Part Two
How can we embrace mission & vision while meeting the community's need for medical professionals?
Marian's retention and student success metrics continue to rise. Even while celebrating the success of their students and their campus, Marian's leadership began to notice their extended community was in crisis. Despite a robust higher educational landscape in the state, Indiana had only one medical school at a large public institution and ranked thirty-eighth in the country for physician density.
As a Catholic university, dedicated to educating transformative leaders for service to the world, the Marian leadership employed their "holy trinity" template to guide the creation, funding, and implementation of new programs and strategic initiatives. The three interlocking circles call them to focus on the needs in the community and the world; the vision, mission, passion, and historical competence of Marian; and the economic engine that will fuel and sustain the initiatives.
Marian opens the first Catholic medical school in Indiana
With a just cause determined and a sustainable strategy in place, Marian put out a bold vision to start a medical school in Indiana and began to raise the necessary funds and build partnerships with area hospital systems. With the launch of its college of osteopathic medicine in 2013, fueled by more than 60 million dollars in donations from private individuals and health care systems, Marian became the first Roman Catholic institution in the country to open an osteopathic medical school and significantly expanded learning opportunities for medical students in Indiana. In 2017, they graduated the first class of physicians, and in doing so have made the institution an invaluable economic resource in the state.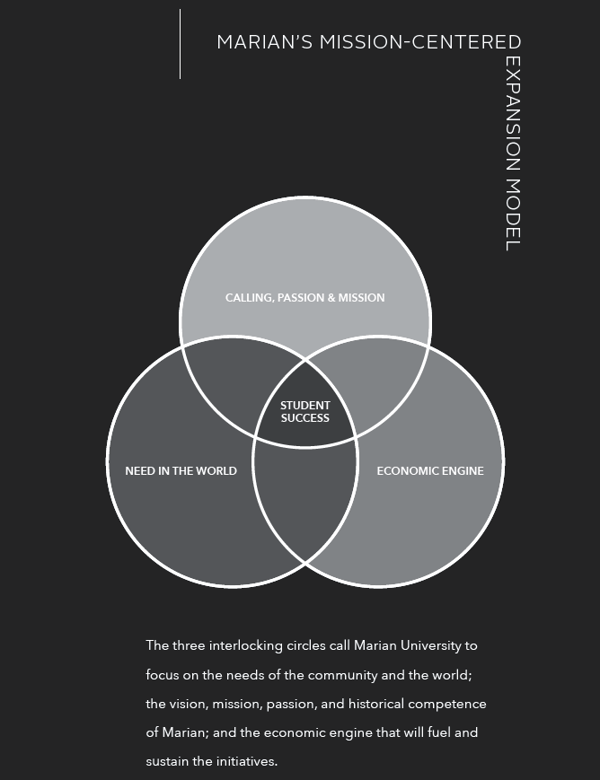 The holistic, innovative approach of the field of osteopathic medicine itself has provided unexpected and welcome challenges to reimagine teaching and learning in other areas of the institution. Osteopathy focuses around a practical, hands-on, whole-person approach to wellness, finding and addressing underlying causes of physical pain and illness. Doctors of osteopathic medicine "pride themselves on their emphasis on preventive medicine, a patient-centered, holistic approach to care, and patient empowerment to strive toward the body's natural, optimal state of structure/function, and self-healing and health. They also utilize diagnosis of and manual manipulation of the neuromusculoskeletal system and stress its interconnectedness with every other organ system in the body." The translation of osteopathy's approach into other schools across the Marian campus has been remarkable, with faculty and staff recognizing and embracing the value of a student-success-centered, holistic, wellness-oriented focus.
In addition to changes in the nursing, sciences, and business pedagogy to better reflect the values inherent in the osteopathic tradition, a few specific initiatives are underway to deepen the integration and adoption of more holistic education:
Leadership
Teacher Preparation
Two-Year College
With all these initiatives, Marian has kept focus on what their students need and what the community needs. To that end, they design programs to meet these needs and the learning needs of identified students—and they do so with agility and speed. Marian's model of innovation, fostering partnerships, and identifying and meeting the needs of their community proves that success does not occur in isolation, but rather from living out mission and values, risk-taking grounded in trust, and making the world a better place, one community, one state, and one medical school at a time.
---
Download these recently updated case studies, "Thriving Institutions: New Lessons from Research and Practice," featuring independent higher education institutions who dared to make a major pivot.
---