The Opportunity
Mary Hardin's Opportunity: Identity, Growth, and Building Up the Campus
When the University of Mary Hardin-Baylor set a vision to become the university of choice for Christian higher education in the Southwest, they committed to a strategic plan and a campus master plan that would truly invigorate and rejuvenate the campus—neither to be put on a shelf to collect dust. UMHB partnered with Credo to make sure their planning was an active process, producing living documents with "legs to stand on." To kick off the process right, they began immediately aligning financial resources to make all the words on paper come to life.
One of the first items of business was to bring football back to campus by building an on-campus stadium. Another top priority item was a new student union building. Credo suggested to the planning and design teams to create synergy around the projects by rolling them out simultaneously, each capitalizing on the success of the other, and creating additional momentum and resources across the campus community. Architecture is an integral component of a successful campus master planning process!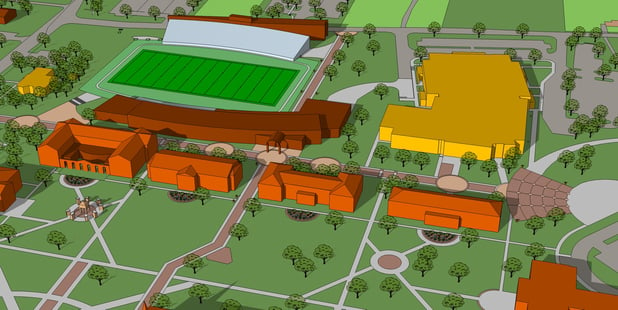 Fast forward to the buildings' completion.…
The new student union building is now the gorgeous, modern backdrop to the football stadium's visitor's side, creating an attractive centerpiece and student activity zone for the UMHB community. Students can hang out with friends and classmates, have lunch overlooking the stadium, or take a jog around the stadium located just outside the student union building.
And these new buildings are just two individual pieces of the over all plans, which center around student engagement, success, and retention.
"Student engagement is an important part of Credo's mission in helping institutions like us. It mattered to us where these buildings were because it mattered how these students were going to engage with each other." - Dr. Steve Theodore, Senior Vice President for Administration, Chief Operating Officer
Results: Growing, growing, every day
UMHB has grown by approximately 1,000 students in the last five years. They have added many new buildings on campus. Besides the stadium and student union building, UMHB has also added a nursing building, an art building, a football field house, and a new physical plant facility. They raised $62 million dollars in scholarship support and for capital projects. The strategic planning and campus master planning projects fit together and inform each other as they come to life around the campus through carefully crafted functional zones.
In 2016, the University's football stadium was recognized as the only Division III institution to rank among the top 50 sports venues in the US! Though Credo did not design the stadium itself, we are proud to be an integral part of the campus master plan, and excited that the result of joining the student union to the stadium was the creation of synergy on campus! Find out more about UMHB's top football stadium here.
"The planning process has been very healthy for Mary Hardin-Baylor. Had we not engaged with Credo, to call timeout and think about what kind of university we want to be, where are we going, what does our future look like, I truly don't think we would have enjoyed the success that we do today." -Randy O'Rear, President
Campus Master Planning - A Texas Success Story: UMHB from Credo on Vimeo.
The campus master plan and strategic plan gave UMHB a foundation to make decisions.
"If you don't have a strong campus master plan, then as these decisions come up about student housing, an academic building, a football stadium, there is no rhyme or reason. If you have a campus master plan, you've thought through the future or at least the short-term future, and can make decisions, make sense of it, and make it all come together," explained Theodore.
Do you experience a vibrant campus culture center around a mission-infused strategic plan and campus master plan? Talk to Credo about how to transform your spaces & promote integrated learning, engagement, and success in your campus community.