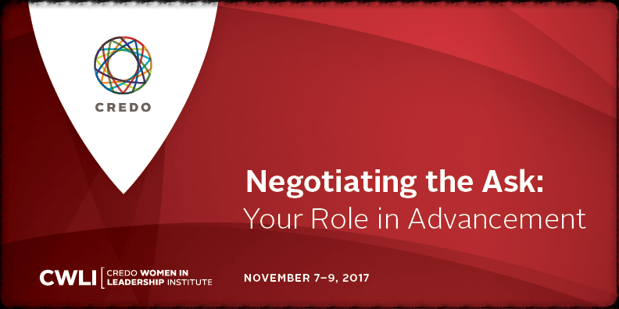 Event | Nov 07 - 09, 2017 Leadership | Strategic-enrollment | Women
Register now for the 2017 Credo Women in Leadership Institute, occurring November 7 -9, 2017!
During the 2016 event, the participants brainstormed and came to a consensus on the theme for 2017: Negotiating the Ask: Your Role in Advancement, a timely and applicable topic for presidents.
Why: The president's role in advancement and fundraising is a critical contributor to the health of an institution, as well as to the success of its leader. You will hear from sitting presidents, each other, and experts in the field on:
building trust and respect with donors,
managing board of trustee giving,
creating an effective advancement team partnership,
fundraising in challenging institutional cultures and contexts,
traveling with donors, and other topics.
When: November 7 - 9, 2017
Where: O.Henry Hotel in beautiful Greensboro ,NC
Address: 624 Green Valley Road | Greensboro, NC 27408
Telephone: 336.854.2000
To reserve your room: Click here to reserve your hotel room under the CWLI group rate.
About the O.Henry: The O.Henry Hotel is locally owned and passionately run. Convenient to Friendly Center and downtown Greensboro, the O.Henry is known for southern hospitality and elegant charm. Your stay includes a complimentary full breakfast buffet, afternoon tea, and countless amenities.
Who: Sitting Presidents
We look forward to a collaborative, energetic, strategic series of presentations and conversations. Will we see you there?
Session Topics:


"Reengagement Strategies: Stepping Into a Community"

"Managing Board of Trustee Giving"

"Creating an Effective Advancement Team Partnership"

"Fundraising in Unique Institutional Cultures"

"All In on Campaigns: Focused Fundraising"

"Open Forum For Advancement and Fundraising Topics"
Schedule of Events:

Tuesday, November 7

5:00 pm: Welcome Reception

6:00 pm: Dinner and Keynote Address: Suzanne Walsh of the Bill & Melinda Gates Foundation

Wednesday, November 8

Full breakfast at the O'Henry included in room rate

8:30 – 10:15 am: Session 1

10:15 – 10:30 am: Break

10:30 am – 12:15 pm: Session 2

12 – 1:15 pm: Lunch

1:15 – 3 pm: Session 3

3 – 3:15 pm: Break

3:15 – 4:15 pm: Open Forum on Fundraising & Advancement

4:30 pm: Evening Free to enjoy High Tea in the O'Henry lobby. Ask us about dining, shopping, spa, and local history/experience options.

Thursday, November 9

Full breakfast at the O'Henry included in room rate

8:30 – 10:15 am: Session 4

10:15 – 10:30 am: Break

10:30 am – 12:15 pm: Session 5

12:15: Institute Concludes

Box lunch available to stay and eat or take with you to the airport
What presidents have to say about past CWLIs:

"This was an exceptional opportunity to constructively engage critical topics of the presidency with strong female leaders at colleges and universities across America. I appreciated the diversity of experience and the different perspectives offered. I am taking back ideas that I believe will fundamentally help me become a stronger leader at my institution."

— CWLI Participant, 2016
---
Register for the Credo Women in Leadership Institute
---