Our Team
Seth Houston, DMA, MBA
Affiliate Consultant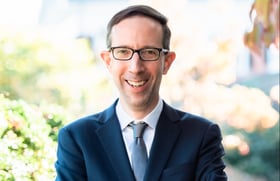 Dr. Seth Houston, founder and CEO of UQ Solutions, Inc., joined the Credo affiliate team in 2021. UQ Solutions offers data and strategy tools that help colleges and universities align with market opportunities so they can attract more students, keep the students they have, and deliver the value that today's students desire and need. Founded in 2021, the company focuses on academic portfolio management and student success and retention.
Prior to founding UQ, Seth enjoyed a successful career in higher education, serving on the faculties of Carroll University in Wisconsin and the University of California, Irvine, where he was also associate chair. A choral conductor and composer, he established programs under his direction as centers of excellence, innovation, and collaboration. While at UCI, Seth served on numerous university committees and participated in the Provost's Leadership Academy, a year-long training course for emerging academic leaders led by Andrew Policano.
Seeking to expand his impact, Seth completed an MBA at UCLA Anderson, where he focused on strategy, finance, and organizational behavior. He then went on to work at the higher education data and consulting firm Gray Associates. In 2021, he founded UQ Solutions.
Seth has consulted with dozens of colleges and universities across the county, from small private colleges to large public universities, and from community colleges to leading online providers. In addition to his MBA, Seth holds a doctorate from USC Thornton and prior degrees from Oberlin—where he graduated with high honors, Phi Beta Kappa, and the Holbrook Prize in Religion—and the University of Michigan, where he was a Regents Fellow. He also completed additional graduate study at Harvard. Seth lives in Charlottesville, Virginia.