Our Team
Jeff Rutenbeck, Ph.D.
Affiliate Consultant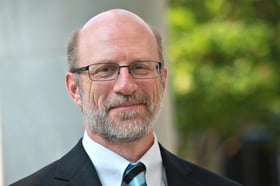 Jeff Rutenbeck, Ph.D., is Senior Vice Provost for Academic Affairs at Arcadia University where he oversees all aspects of academic and student affairs, including The College of Global Studies, The Division of Student Success, the Office of Access, Equity, Diversity and Inclusion, Landman Library, the Center for Teaching Learning and Mentoring, the Center for Antiracist Scholarship, Advocacy and Action, student health services, counseling services, public safety, career education, the Office of Sponsored Programs, and the Office of Civic and Global Engagement. He has also overseen the institution's COVID response from the very beginning of the pandemic. He has extensive experience with strategic planning and finance, program optimization, stakeholder engagement, fundraising, transformative inclusion, and crisis management. Previously he served as the Dean of the School of Communication at American University, founding dean of Communication and Creative Media at Champlain College, and founder and long-time director of Digital Media Studies at the University of Denver. Jeff earned his Ph.D. in Communication from the University Washington; his MA in Journalism from the University of Missouri-Columbia; his BA in History/Political Science from Colorado College.