Our Team
Jennifer McCluskey, Ph.D.
Affiliate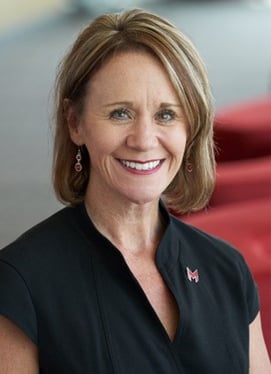 Dr. Jennifer McCluskey serves as Vice President for Student Success at Maryville University. Chief among her responsibilities is the innovative Life Coaching program, which provides comprehensive support for students as they transition from high school to college and from college to career. In addition, Dr. McCluskey oversees new student programs, career services, disability support services, international student success, and the University Library. Dr. McCluskey led the effort resulting in the university student retention rate increasing by15%, a rate well above the national average.
The Student Success division plays a key role in all areas of the strategic plan. Dr. McCluskey serves on the university leadership team, Diversity & Inclusion Strategic Committee, and Innovation Center Planning. She was instrumental in forming an important partnership with Coach Diversity Institute in Washington, DC in order to certify the entire Life Coaching team with a strong focus on diversity and inclusion. Dr. McCluskey is co-chair of the Active Learning Ecosystem team and co-chair of the Digital Employee committee. For more than ten years, she oversaw University Seminar, the foundation course for first-year students, and chaired the Tunnel of Consciousness committee.
Dr. McCluskey joined Maryville University in 2002 as Director of Retention Initiatives in the Enrollment Division. She then served as Assistant to the Vice President for Enrollment from 2006 –2008. In 2008, she moved into Academic Affairs as Associate Vice President & Director of the Center for Academic Success & First-Year Experience, as well as Assistant Professor in the School of Education. In 2015 she was appointed Vice President for Student Success.
Prior to Maryville, Dr. McCluskey worked at University of Denver, Arkansas State University, and Quinnipiac University (CT). An experienced presenter, Dr. McCluskey has facilitated sessions at numerous regional and national conferences. She also serves as an affiliate consultant for Credo, consulting for other independent colleges and universities. Her career includes more than 25 years of experience in higher education.
Dr. McCluskey is married to Brian who is from Boston and they have the beautiful challenge of raising three New England fans (Braden, Blake, and Bennett) in St. Louis. When Dr. McCluskey not at Maryville, she's likely at a Boy Scout camp out, a baseball field, or a soccer game.