Our Team
Jerry Seaman, Ph.D.
Senior Consultant for Leadership Strategies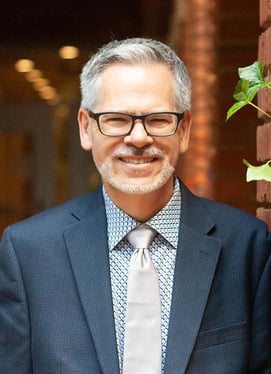 Jerry Seaman, Ph.D. (he/him/his) views leadership strategy as a journey—one he's traveled for more than 20 years as a higher education administrator. Now, as a senior consultant for Credo, he channels that experience and expertise to help his clients imagine—and reach—their next destination.
Bringing Strategy to Boards, LeadershiP & Campuses
Jerry's creative and clarifying approach to leadership strategy development inspires and engages our clients at all levels, from small-group work with boards or senior teams to large-scale community assemblies. Drawing on his wealth of experience, Jerry deftly guides our clients in building and executing strategic plans, helping to address urgent challenges and lay foundations for ideal futures. By rooting leadership strategy in each client's mission, vision, and values, Jerry helps them foster culture and structure changes that promote innovation and growth.
"I love the challenge of discovery, the hope in the problem, and the inspiration in the opportunity to help clients find their story and build their future."
Stretching into Service
Jerry's heart for the future carries over into every aspect of his life, from client campuses, back home to his alma mater. Jerry participates in Stanford's Outreach Volunteer Alumni Link program, which engages graduates in support of university's admissions process. He has also served as president of the Rotary Club of Grantham and is a member of the American Society of Composers, Authors, and Publishers (ASCAP).
For fun and to stay ever-energetic, Jerry is an erstwhile runner and senior elite ice hockey player. Nowadays Jerry finds himself drawn more to walking, music, and occasional yoga—though he admits he should do more of the latter.
More About Jerry
Client & Project Portfolio

Strategic Planning & Implementation | Austin Community College District
Strategic Planning | University of California - Santa Cruz
Strategic Planning | University of Missouri
Board Engagement | Averett University
Strategic Planning & Implementation | Furman University
Strategic Planning & Implementation | Macalester College
Strategic Planning & Implementation | MidAmerica Nazarene University
Strategic Planning & Implementation | The King's University (Canada)
Strategic Planning & Implementation | Valparaiso University
Strategic Student Success Partnership | Wittenberg University
Strategic Planning | Council of Colleges of Acupuncture and Herbal Medicine (CCAHM)
Board Development | Institute for Clinical Social Work (ICSW)
Strategic Planning | Independent Colleges and Universities of Texas (ICUT)
Board Development | Ohio Foundation of Independent Colleges (OFIC)

Education & Certifications

Ph.D., French, Stanford University

B.A., French, International Relations, and Political Science, University of Wisconsin-Madison

Learner
Achiever
Arranger
Intellection
Input
Leadership Strategies Team
Jerry is part of the Leadership Strategies Team. He leads Strategic Planning, Rapid Strategy, and Board Facilitation with the support of this team of wonderful people.