from Credo Press - Available Now
---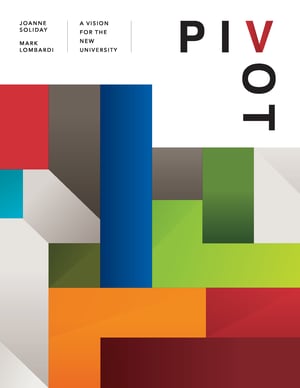 From Joanne Soliday, Credo Co-Founder, and Dr. Mark Lombardi, President of Maryville University, "Pivot: A Vision for the New University" is a new book focusing on the disruptive change that must occur in higher education.
The news sure looks bad: rapidly shifting student demographics, the ever-increasing speed of technological innovation, and extreme legislative and public pressure are squeezing colleges and universities into a lose-lose race toward irrelevancy. Detailed in countless articles and books, the challenges faced by institutions of higher learning in the U.S. are varied and weighty.
But higher education is far from doomed. It is at this inflection point in which independent colleges and universities have the opportunity revolutionize higher education. It is time to pivot towards a new university, one that: radically refocuses structure and pedagogy on students and their learning, translates big data into extraordinary personalized learning models, produces national examples for access and inclusion, and that reimagines the foundational institutional structures of leadership, tenure, and the higher education business model.
"If you are looking for an inspiring, hopeful, practical, and possibilities-oriented narrative about higher education, Joanne Soliday and Mark Lombardi's book 'Pivot' should be on your shortlist. But reader beware, Soliday and Lombardi don't pull punches about the adaptations required to flourish in the twenty-first century learning economy. They challenge readers to do the hard work required to uncover an institution's pivot. With descriptive, real-life, courageous case studies, leaders will find creative energy and a needed kick in the pants designed especially for those colleges and universities leaders determined to thrive in the modern era."

-Dr. Frank Shushok, Jr., Ph.D., Vice President for Student Affairs and Associate Professor of Higher Education, Virginia Tech; Executive Editor, About Campus
---
In an industry notoriously slow to adapt and evolve, leaders of colleges and universities must act quickly and decisively, committing to a monumental shift to educate students for a world that we cannot yet see: a leap-frog into relevancy that higher education has never experienced.
Authors Joanne Soliday and Dr. Mark Lombardi, with their combined decades in higher education leadership and consulting, explicate a picture of possibility for the future of independent colleges and universities, one rooted in the essential value of a liberal arts education that brings students to their highest potential. Brought to you by Credo Press, "Pivot" is the critical reimagining of higher education and a guiding vision for the new university.