Credo Press Presents
Pivot: A Vision for the New University
From Joanne Soliday, Credo Co-Founder, and Dr. Mark Lombardi, President of Maryville University, "Pivot: A Vision for the New University" is a new book focusing on the disruptive change that must occur in higher education.
The news sure looks bad: rapidly shifting student demographics, the ever-increasing speed of technological innovation, and extreme legislative and public pressure are squeezing colleges and universities into a lose-lose race toward irrelevancy. Detailed in countless articles and books, the challenges faced by institutions of higher learning in the U.S. are varied and weighty.
But higher education is far from doomed. It is at this inflection point in which independent colleges and universities have the opportunity revolutionize higher education. It is time to pivot towards a new university, one that: radically refocuses structure and pedagogy on students and their learning, translates big data into extraordinary personalized learning models, produces national examples for access and inclusion, and that reimagines the foundational institutional structures of leadership, tenure, and the higher education business model.
Order "Pivot" Now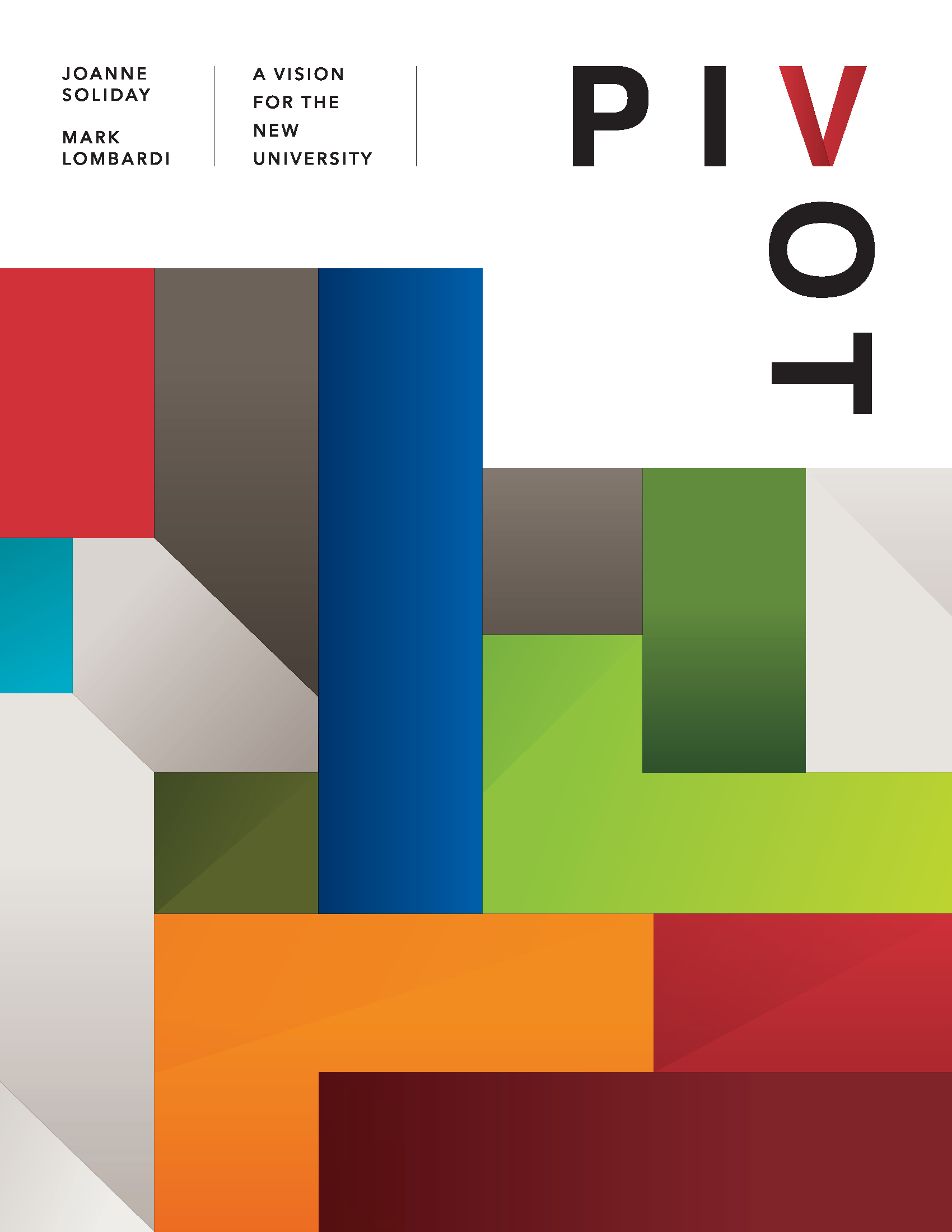 In an industry notoriously slow to adapt and evolve, leaders of colleges and universities must act quickly and decisively, committing to a monumental shift to educate students for a world that we cannot yet see: a leap-frog into relevancy that higher education has never experienced.
Authors Joanne Soliday and Dr. Mark Lombardi, with their combined decades in higher education leadership and consulting, explicate a picture of possibility for the future of independent colleges and universities, one rooted in the essential value of a liberal arts education that brings students to their highest potential. Brought to you by Credo Press, "Pivot" is the critical reimagining of higher education and a guiding vision for the new university.
What higher education leaders have to say about "Pivot."

What are higher education leaders saying about "Pivot"?

---

The authors present a stimulating narrative which captures the challenge of higher education's need to surf in an environment of constantly changing and largely unpredictable waves. "Pivot" is systems thinking in a macro world, using aspects of organizational learning theory applied against institutional futures. Organizational learning theory calls for a shift of mind from thinking narrowly within the confines of any school to the broader, more highly connected environment where known and unknown variables come at us in ever increasing speed. "Pivot" captures the 'thinking' structures within our institutions which must learn to adapt, adjust, and assimilate to these constantly changing variables as we speed into a rapidly altering future.

-Dr. Ed Moore, President, Independent Colleges and Universities of Florida

---

Soliday and Lombardi have given us a highly useful brief for institutional change that covers both extreme disruption and nuanced pivots. By examining case studies of successful leadership—Mary Schmidt Campbell at Spelman, Dan Elsener at Marian, and Amy Novak at Dakota Wesleyan—as well as Mark Lombardi at Maryville, this volume will assist each president as he or she seeks the appropriate position on a wide spectrum of approaches.

-Dr. Rich Ekman, President, Council of Independent Colleges

---

Soliday and Lombardi provide a compelling call to action for today's college and university leaders. Your first pivot should be to read Pivot!

-Barbara Lettiere, President, Immaculata University

---

If you are looking for an inspiring, hopeful, practical, and possibilities-oriented narrative about higher education, Joanne Soliday and Mark Lombardi's book "Pivot" should be on your shortlist. But reader beware, Soliday and Lombardi don't pull punches about the adaptations required to flourish in the twenty-first century learning economy. They challenge readers to do the hard work required to uncover an institution's pivot. With descriptive, real-life, courageous case studies, leaders will find creative energy and a needed kick in the pants designed especially for those colleges and universities leaders determined to thrive in the modern era.

-Dr. Frank Shushok, Jr., Ph.D., Vice President for Student Affairs and Associate Professor of Higher Education, Virginia Tech; Executive Editor, About Campus

---

Soliday and Lombardi draw from years of experience in private higher education--and a mutual love for the academy and its potential-- to invite readers to approach much-needed change by pivoting. The authors identify five key pivot points and explore practical cases of institutions that have pivoted on one or more of these points towards a "new university," one that moves from stasis to access, innovation, relevance, and sustainability. This is a clear, lucid and hopeful analysis of the present and future of private higher education in the US.

-Dr. Moya K. Dittmeier, Executive Director, Conference for Mercy Higher Education, Sisters of Mercy of the Americas

---

At a time of true disruption in higher education, thought champions with new strategic frameworks are needed to inspire change and meaningful innovation. In this important work, Joanne Soliday and Mark Lombardi position themselves accordingly, with a clear codification of emerging challenges and opportunities facing the independent sector and a roadmap for "pivotal" institutional leadership.

-Bob Bartlett, President, Michigan Colleges Alliance

---

Presidents of independent colleges and universities around the country understand the urgency of making pivots happen, but creating the organizational capacity and cultural will to realize those pivots are too often the institution's greatest challenges. The authors' straightforward clarity about the "how" offers an invaluable framework for adaptive change.

-Dr. Barbara A. Farley, President, Illinois College

---

Written in a style accessible to all audiences and constituents, Pivot promises to be the next "must read" for any member of a college or university community, particularly for those associated with an independent institution of higher learning. Soliday and Lombardi repeatedly prompt the reader about the urgent need to enact change, while reminding that the best call to action is one associated with positive institutional outcomes and improved student success.

-Dr. Robert Wyatt, President, Coker College

---

Independent colleges and universities today face more challenges than ever. This book provides an essential framework for focusing mission and culture while transforming structure and approach. From classroom interaction to financial decision-making, Soliday and Lombardi offer creative advice for growing up into the 21st century.

-Shirley Hoogstra, President, Council for Christian Colleges and Universities

---

Soliday and Lombardi know their stuff. The experiences they've had in higher education come shining through in their book, giving the reader an inside look at what many of the most innovative institutions of higher learning are doing to stay relevant. The authors talk about the importance of "shifting the institutional culture from one of stasis to one of continuous innovation, change, and growth." I can think of nothing more important than this when it comes to the creating a legacy for my presidency.

-Jody Horner, President, Midland College

---

What is so wonderful about this book is that while the focus is on private higher education, the vision represented transcends to most any mission-driven educational endeavor. As President and CEO of a national education foundation, it is clear in our work that a responsive evolution and adaptation to the changing needs of learners is paramount. This book outlines a path of success that is both pragmatic and impassioned, while embracing the core tenets of the purpose of higher education.

-Billy Hensley, President and CEO, National Endowment for Financial Education

---

Have you read "Pivot"? Send us your review! We'd love to hear what you think.
The Authors
Joanne Soliday
One of Credo's Co-Founders, Joanne Soliday has spent more than 35 years working and consulting in private higher education, with more than two decades in leadership at Elon University and West Virginia Wesleyan University.
Mark Lombardi, Ph.D.
Mark Lombardi, Ph.D., has served as president of Maryville University since 2007. In that time, Maryville has achieved unprecedented growth and earned national distinction for leading an exciting revolution in higher education.
More About Mark
Also from Joanne Soliday
"Surviving To Thriving: A Planning Framework for Leaders of Private Colleges and Universities"
Through socio-economic, political, and ideological shifts in higher education, how can institutions persevere and best serve their students? "Surviving to Thriving" is a guide for independent college and university leaders wherein Authors Joanne Soliday and Rick Mann apply nine elements of Credo's Thriving Framework® through which institutional health can be both understood and improved.
Order "Surviving to Thriving" Now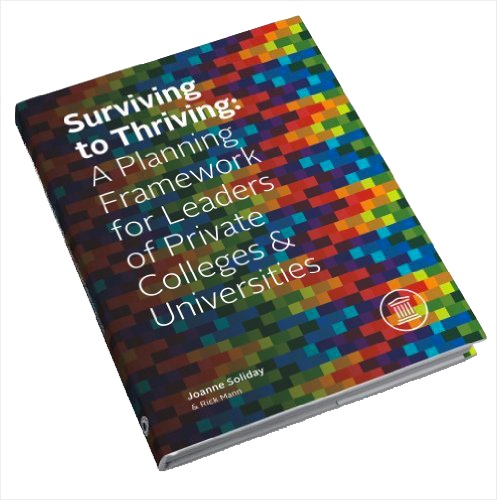 The beauty of this book is that it never goes stale. I have revisited the text numerous times and come away challenged because it doesn't just deliver "content," it challenges and inspires my way of thinking.

Dr. Brian Ralph

President, William Peace University
Credo Press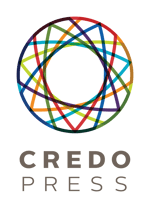 Credo Press launched in 2013 with the mission of catalyzing positive change in higher education through print and digital publishing. Credo Press's inaugural book, "Surviving To Thriving: A Planning Framework For Leaders of Private Colleges and Universities" and groundbreaking second release, "Pivot: A Vision for the New University" are bedrocks for college, university, and consortia leaders and changemakers in their quest to prepare and adapt for the future of higher education. For more information about Credo Press, please contact info@credohighered.com.