Get your hardback or ebook -
or both!
"Surviving to Thriving" details a pathway that will enable higher education institutions to foster resilience and reinvention while maintaining the core commitment to educate citizens for the common good. In these turbulent times, this manuscript is engaging, organized, and filled with helpful insights. If college board members, presidents, and their senior leadership teams read this guide and implement the principles outlined in its pages, the next decade will be a period of positive growth and development for private higher education institutions.

— Dr. Kim S. Phipps, President, Messiah College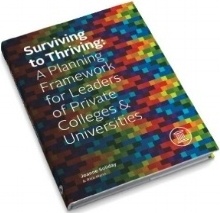 Through socio-economic, political, and ideological shifts in higher education, how can institutions persevere and best serve their students? "Surviving to Thriving" is a guide for independent college and university leaders wherein Authors Joanne Soliday and Rick Mann apply the nine elements of Credo's Thriving Framework® through which institutional health can be both understood and improved.
Navigating the higher education landscape today presents a multi-faceted challenge to leaders of independent colleges and universities. While some institutions close their doors, face declining retention, or struggle with a lack of direction, others work carefully and intentionally to hone their leadership team, plan for the future using targeted research and tools for accountability, and meet students where they are to provide them with the best tools for learning and success.
---
Discussion questions for leadership teams and a collection of suggested readings from a broad spectrum of university and college leaders provide additional thought-provoking resources. The companion Thriving Framework Diagnostic Tool allows leadership teams to evaluate their own institution's level of urgency across the elements of The Thriving Framework®, and serves as a powerful tool for cabinet and board consideration.
This book will help private university leaders plan for the future, shape the story of their institution, and re-focus their efforts on the central constituency on any campus: students.