Our Team
Emma Jones
Executive Vice President / Owner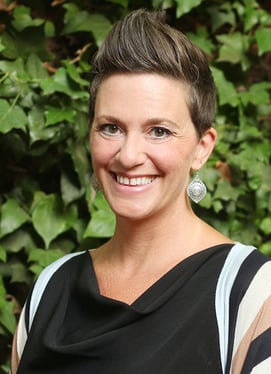 Emma Jones (she/her) is a storyteller at heart. She's passionate about changing the prevailing narratives about higher education by inspiring innovation and action within our client institutions and associations. With more than 20 years of experience working in and for colleges and universities, Emma helps our clients to build their leadership benches for the future with an emphasis on empowering women.
A Champion for Women in Leadership
As Credo's Executive Vice President, Emma wears many hats. She oversees Credo's brand, marketing, and sales teams, and plays a key role in developing our business strategy, culture, and diversity and inclusion efforts. As the Executive Editor for Credo Press, Emma worked closely with Credo co-founder Joanne Soliday on publications including Surviving to Thriving (2014) and Pivot: A Vision for the New University (2019). She also leads Credo's Women in Leadership Initiative, which helps to develop cabinet-level and presidential leaders in both in-person and virtual settings. Emma was recognized in 2022 by the Women's Resource Center of Alamance County as a Leading the Way Honoree for her work with developing leaders nationally.
"I love working with higher education leaders. They are brilliant, passionate, thoughtful people who are incredibly committed to the success of their students, teams, and institutions."
Honoring Core Values of Family and Place
Emma's passion for developing women leaders is matched only by her advocacy for maternal health and choice, and she served as a Certified Birth Doula with DONA International for six years.
Emma and her family live outside the funky riverside mill town of Saxapahaw, North Carolina, on land they share with three generations —along with cats and chickens.
More About Emma
Client and Project Portfolio

Facilitator | AICUM / AICURI (Massachusetts and Rhode Island) Aspiring Leaders Program
Facilitator | APCU (Presbyterian) Executive Leadership Program
Facilitator | GICA (Georgia) Higher Education Leadership Development Program
Facilitator | ICI (Indiana) Leadership Academy
Facilitator | KICA (Kansas) Aspiring Campus Leadership Academy
Consultant | OFIC (Ohio) Strategic Planning
Facilitator | TICUA (Tennessee) Aspiring Leaders Academy
Facilitator | TICUA (Tennessee) Executive Leaders Institute
Facilitator | WAICU (Wisconsin) Aspiring Leaders Program
Roundtable Leader | Council for Independent Colleges (CIC) Presidents Institute 2023 Roundtable; "Presidential Longevity and Institutional Culture" with Dr. Tiffany Franks, President, Averett University
Facilitator | American Association of Colleges & Universities (AAC&U) President's Trust Town Hall Meeting; "Presidential Leadership in Crisis: Sustaining Self and the Future of the Profession" with Dr. Lynn Pasquerella, President, AAC&U; and Dr. Joretta Nelson, Vice Chairman/Owner, Credo
Facilitator | South Atlantic Conference (SAC) Annual Meeting
Facilitator | North American Association of Methodist Schools and Colleges (NAAMSCU) Annual Meeting
Featured Speaker | Tennessee College Public Relations Association (TCPRA) Annual Conference – "Leadership & Change in Higher Education"
Featured Speaker | Independent Colleges of Indiana Fall Board Meeting – "Connecting Student Thriving & Faculty Thriving" with Dr. Allison Ash, Senior Consultant for Student Success, Credo
Presenter: Credo Webinar | "Managing Risk & Change in Strategic Planning"

Chief Brand Officer, Credo
Manager, External Communication & Program Development, The Foundation for International Education, London, UK
Study Abroad Advisor and Publicity Coordinator, Elon University

Education & Certifications

• Bachelors in Literature and Mass Communication, University of North Carolina at Asheville

• M.A., Liberal Studies, University of North Carolina at Greensboro

• Certified REACH Ecosystem Practitioner

StrengthsFinder Profile

• Strategic
• Communication
• Focus
• Learner
• Significance

REACH Style | Coach, pulled toward Driver

Enneagram Profile | Type 3: The Achiever
Executive Leadership Team
Emma is part of the Executive Leadership Team. She is proud to work with this team of talented individuals.
External Relations
Emma is also part of External Relations, partnering with this talented team on brand oversight, events, speaking engagements, and more.