Our Team
Bill Fahrner
President / Owner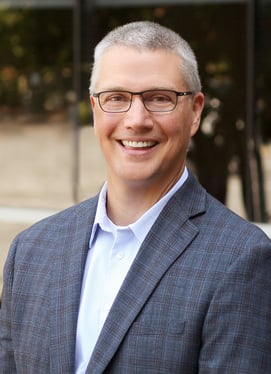 Bill Fahrner is a firm believer that education is society's greatest equalizer. It's capable of changing not just one life but the trajectory of entire families for multiple generations. That belief led him to join Credo more than 20 years ago—and it's still driving him today.
Fostering Innovation Across the Higher Education Enterprise
During his Credo tenure, Bill has worked in just about every aspect of the firm. He's engaged with more than 200 institutions on projects ranging from strategic planning and enrollment management to advancement and board development. Bill brings deep expertise in these topics, having served in seven interim vice-presidential roles focusing on enrollment management and advancement. As Credo's current president, Bill is responsible for the firm's financial and cultural health and oversees its facilities, IT, and consulting areas.
"I love the impact that Credo has on leaders standing in service to all learners who will influence our world for generations to come."
A Family-Minded Community Leader
A Pittsburgh native, Bill now cheers the Steelers, Penguins, and Pirates from his home in North Carolina where he lives with his wife, Kristin, their daughters, Kayla and Lainey, and their rescue dog, Rooney. Bill also devotes his time as a member of the Entrepreneurs Organization Raleigh/Durham Chapter and a trustee of his church, activities that both inform—and are informed by—his work at Credo.
More About Bill
Client & Project Portfolio

Board of Trustees Engagement | Tiffin University

Advancement Engagement | Limestone University

Advancement and Board of Trustees Engagement | Mount St. Mary's University, MD

Board of Trustees Engagement | Franklin & Marshall College

Board of Trustees Engagement | Hiram College

Advancement Engagement | Washington Adventist University

Presenter, Board Governance | Association of Presbyterian Colleges and Universities (APCU)

Presenter, Board Governance and Higher Education Finance | Georgia Independent Colleges & Universities (GICA)

Board of Trustees Engagement | Muhlenberg College

Board of Trustees Engagement | Averett University

Education & Certifications

B.S., Biology with Business Minor, West Virginia Wesleyan College

MBA, West Virginia Wesleyan College

Chief Operating Officer, Credo

Director of Alumni Relations, West Virginia Wesleyan University

StrengthsFinder Profile

Achiever

Woo

Includer

Futuristic

Learner

Responsibility

REACH Style | Counselor

Enneagram | Type 3: The Achiever

Myers-Briggs | ENTJ

Social Style | Expressive Analytic
Executive Leadership Team
Bill is part of the Executive Leadership Team. He is proud to work with this team of talented individuals.
Advancement & Society Development Team
Bill brings his experience with advancement, development, and higher education fundraising to partner with this team to guide and deliver services.