Our Team
Tom Gavic
Chairman / Owner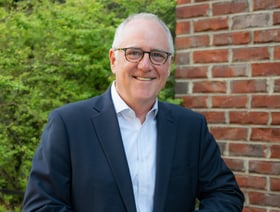 Tom Gavic founded Credo in 1995, and then reimagined Credo with co-founder Joanne Soliday in 2002. From the start, Credo has been grounded in core values and centered around a mission to help colleges and universities radically improve their students' success and institutional health. For more than 30 years, Tom has guided the firm to serve our clients in all areas, from business development and campus planning, to strategic planning and knowledge leadership. Tom has built and is proud to be part of an incredible team committed to shaping the future of higher education and benefiting the students that colleges and universities serve.
An Ambassador
for Institutional Change
Tom relishes his role as Credo's "Chief Ambassador," inspiring our staff and partners with his broad vision, deep belief, and "fail forward fast" approach. He's particularly passionate about building, growing, and scaling Credo's comprehensive Moving The Needle program, which establishes strategic partnerships with affinity groups of colleges and universities individually and in cohorts. Under Tom's leadership, the MTN program is on track to serve 100 partners by 2025. Tom also plays key roles in relationship development and strategic partnerships, and he is creating a network of philanthropic leaders whose missions align with Credo's business strategy.
"I love that Credo focuses on an industry where we can help positively change student lives and impact families for generations."
Building TeamWork
Tom's dedication to higher education dates to his years as an undergraduate at the University of Wisconsin-Madison. He continues to make his home in the Badger state, living with his family in DePere, Wisconsin. In the fall, you can often find him cheering on his beloved Green Bay Packers, of whom he's proudly an official shareholder.
More About Tom
Education & Certifications

B.S., University of Wisconsin-Madison

StrengthsFinder Profile:

Maximizer

Belief

Activator

Responsibility

Arranger
Executive Leadership Team
Tom is part of the Executive Leadership Team. He is proud to work with this team of talented individuals.
Student Success & Retention Team