Our Team
Maggie Conklin, Ed.D.
Director of Extraordinary Talent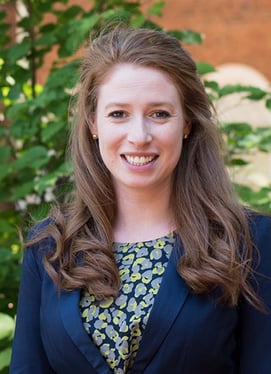 As Credo project manager and consultant for several years, Maggie Conklin (she/her/hers) gained a firsthand understanding of what our team needs to serve clients to the best of our abilities. She didn't know at the time she was developing a unique perspective that would serve her well for her next role: our firm's first Director of Extraordinary Talent.

There's Never a Dull Day in Talent Development
"Why do I love this job?" Maggie asks. "There's never a dull day. Team needs are always evolving, and innovative ways to support employees are always surfacing."

While Credo consultants, project managers, and affiliates focus on deliverables, presentations, and solving complex problems for clients, Maggie zeroes in on the employee experience. She develops and optimizes people-centered practices for hiring, training, talent development, and performance measurement that align with the firm's overall strategic direction. At the same time, Maggie spearheads the planning for team-wide events like Advances and the celebration of colleagues' life and work milestones, ensuring our staff balance their hard work with fun and camaraderie. Her work lays the groundwork for a high-functioning and supportive environment that allows all Credo staff to thrive.
Our employees are Credo's greatest asset. They're our competitive advantage. Each person here is an integral part of our mission and plays an important role in our firm's future.
Embracing Life's Joys, Close to Home and Around the World
Maggie is a proud military spouse and mother to a very happy and vibrant daughter. Although her favorite place in the world is with her family, she's also had some noteworthy travels, including a solo tour of Italy, a 19-mile hike through the Swiss Alps, inspiring visits to Germany's Neuschwanstein Castle and Ireland's Cliffs of Moher, and a snowmobiling excursion across Iceland's glaciers.
More About Maggie
Creating a structure for Credo's talent acquisition process and onboarding
Launching LinkedIn Learning to accelerate employee skill acquisition
Co-facilitating working groups to facilitate ongoing learning
Planning and executing firm-wide strategic and professional development events

Education & Certifications

B.A., History and Leadership Management, Miami University
M.S., Higher Education Administration, University of Dayton
Ed.D., Organizational Change and Leadership, University of Southern California
Certified REACH Practitioner

Leadership Strategies Consultant and Project Manager, Credo

Assistant Director and Coordinator, UNC Greensboro

Residence Coordinator, University of Dayton

Residence Director, Brown University
Operations Team
Maggie is part of the Operations Team. She works alongside this team of talented people.