Our Team
Ryan Gay, PMP
Associate Vice President for Information Technology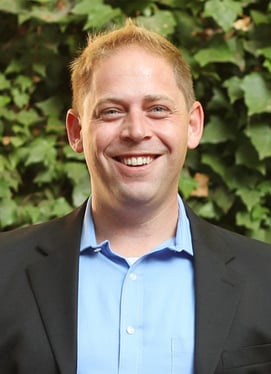 Ryan Gay (he/him/his) is driven by a simple mission: To make other people's lives and work a little bit easier. At Credo, he leverages his broad knowledge of IT to live that mission into reality. In the process, he's made an indelible impact on our staff and the institutions we serve.

A Technology Troubleshooter by Trade
As Associate Vice President for Information Technology, Ryan is focused on updating our infrastructure and leveraging technology so Credo can thrive in a post-pandemic world. A gifted troubleshooter, Ryan loves solving problems for his coworkers, serving as a strategic thought partner for our business development, finance, operations, technology, and client divisions. Colleagues say Ryan has a keen memory for details and can build a solution out of whatever information they provide, enabling the optimization of work in every corner of our firm.
I have a strong ability to listen to the needs and challenges of others to figure out dynamic solutions and support their needs—allowing others to ideate while I focus on building the solution.
Infusing Work with Warmth
Ryan is a firm believer that, if you're going to spend most of your life at work, you might as well have fun while you're doing it. He brings humor, kindness, and thoughtfulness to each interaction he has with colleagues and clients. Ryan brings a similar approach to his personal life, where he's a proud uncle to Khloe and Braxton and a loving dad to his Westie named Tessa.
Fun fact
Ryan was born on Leap Day – so at "9-years-old," he ranks as Credo's "youngest" employee.
More About Ryan
Client & Project Portfolio

Client Portfolio:

Beloit College

College of Saint Benedict / Saint John's University

Lewis University




Muhlenberg College




Tougaloo College

Washington Adventist University

Credo Special Projects:

Implemented LinkedIn Learning for Credo workforce

& Moodle for Credo MTN clients

CRM oversight and data management

Virtualized firm's technology infrastructure

Oversight of Affiliate Program in coordination with Director of Extraordinary Talent

Education & Certifications

B.A., English, University of North Carolina at Greensboro
M.A., English, University of North Carolina at Greensboro
PMP Certified, Project Management Institute

Service Design Manager, Elon University
Business Development and Client Relations Manager, Forsyth Management Group

StrengthsFinders:

Achiever
Consistency
Empathy
Individualization
Input

REACH Style: Counselor / Advisor
Operations Team
Ryan is part of the Operations Team. He works alongside this team of talented people.