Our Team
Katie Sparrow, AIA, NCARB
Campus Planner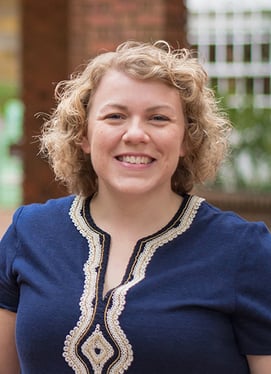 Katie is a dynamic thought partner in the area of campus master planning where she strives to develop physical spaces that serve each institution's unique strategic plan. As a registered architect who thrives in facilitating inclusive master planning engagements, Katie guides our college and university planning teams through her passion for adaptable student-centered learning environments. By analyzing and designing interior and exterior plans for various educational facilities, Katie has developed a deep understanding of how and where optimal student learning takes place.
With expertise designing for K-12, higher education, libraries, and learning commons, Katie practices her passion by intentionally designing spaces, buildings, and master plans that facilitate a sense of student belonging, success, and lifelong learning. Katie's experience spans across the areas of strategic planning and campus planning, having also served as a member of Credo's Leadership Strategies team where she guided campus partners through the implementation of their strategic plans. In addition to her work in educational planning, Katie has experience in the analysis, inventory, and documentation of historical properties, as well as in the design of residential, commercial, and healthcare facilities.
Katie received her B.S. in Architecture from Ball State University's College of Architecture and Planning and her M.Arch from UNC-Charlotte's College of Arts and Architecture where she received the Excellence in Urban Design award.