Our Team
Myriah Davis, Ph.D.
Senior Consultant for Academic Strategies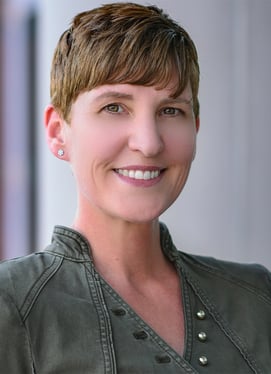 Myriah Davis, Ph.D., understands the challenges facing higher education and nonprofit leaders because she's faced them, too. In her varied executive higher education roles, Myriah has learned that developing successful strategies is a little bit like putting together a puzzle—fitting each piece into place opens promising new pathways for our client institutions and the students they serve.
A Seasoned Approach to Strategy and Change Management
As a Credo senior consultant, Myriah leverages her comprehensive knowledge of systems, processes, and efficiencies to help clients improve the fiscal and operational health of their institutions. Whether she's leading clients in a program review, an exploration of their institutional priorities, or a reinvigoration of their talent pipeline, Myriah brings our clients a solutions-oriented approach. Her inclusive, collaborative leadership style inspires our partners to effect positive change. Her experience with unions, both faculty and operations, giving her a unique lens into different perspectives on campus.
"I love that my work allows for creative solutions to some of the greatest challenges facing our campuses today."
A Champion for Diversity, Equity, and Inclusion
Myriah's passion for higher education is rooted in her experience as a first-generation college student at the University of Toledo. Since her time as a student and during her career as an institutional leader, Myriah has promoted inclusivity, access, and student success on campuses of all sizes.
Clients and colleagues alike describe Myriah as a keen listener who speaks the truth with focus, kindness, and clarity. Personally, Myriah likes to find clarity and calm when she's cycling, hiking, and traveling around the world—often with Duke, her Bernese Mountain Dog, by her side.
More About Myriah
Client & Project Portfolio

Integrated Student Experience & Strategic Planning

| College of St. Benedict/St. John's University

Academic and Administrative Efficiency | Rider University

Pipeline and New Program Growth

| Ohio Wesleyan University

Feasibility Study | Emory & Henry College

Strategic Planning

|

Austin Community College

Shared Governance

| Dominican University

Institutional Priorities Project

|

Charleston Southern University
Institutional Priorities Project

|

Manchester University

Committee Restructuring & Administrative Efficiency |

Southern Adventist University
Efficiency | Northeastern University

Brand Positioning

|

University of California—San Francisco
Academic Structure Assessment

|

Lynchburg University

All Staff Development Day

|

Hesston College

Transfer Student Success |

Oregon Alliance of Independent Colleges and Universities—

Education & Certifications

Ph.D., Cultural Studies, Ohio University

M.Ed., Higher Education, Ohio University

B.A., International Relations, University of Toledo

Certified REACH Practitioner

Certified Lean Six Sigma Black Belt Professional

Interim President, Vice President of Academic Affairs & Workforce Development, Vice President of Administrative Services, Hocking College

Chief Operating Officer, Hocking College

Chief Student Affairs Officer, Hocking College

StrengthsFinders Top Strengths:

Achiever

Futuristic

Learner

Input

Relator

REACH Style | Coach
Leadership Strategies Team
Myriah is part of the Leadership Strategies Team. She partners with Credo clients on Strategic Planning, Institutional Priorities, Program Reviews, and Campus Academic and Administrative Efficiency Projects. Myriah is supported by this team of wonderful people.
Ready to See Results?
Having the right partner at the table can be a game changer. We'd love to talk to you about how we can help your campus to flourish.