Our Team
Mike Donnelly
Project Manager for Leadership Strategies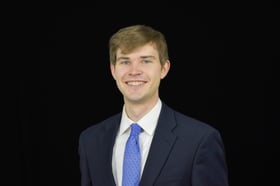 Mike Donnelly (he/him/his) believes in the power of higher education to make a lasting difference in the lives of students and their communities. Before joining Credo, he helped plan and execute a series of signature leadership development programs for the Council of Independent Colleges, honing a skill set that's served him well as a Project Manager for Leadership Strategies.
Diverse Expertise in Leadership and Strategic Planning Programs
Mike's project management experience includes projects tailored to executive, senior, and academic leaders. He also worked on CIC's Belonging and Academic Leadership Initiative, which aims to redesign leadership development programs through a diversity, equity, and inclusion lens. At Credo, Mike serves in a similar role, managing the logistical, administrative, and communication elements of our strategic planning and board facilitation partnerships.
I believe it's vital to have trust and empathy at the center of all project management, as it leads to a partnership between firm and client, and that alignment is the key to delivering the best possible outcomes.
A Love for People, Puzzles, and Cleveland Sports
Inside and outside of work, Mike is energized by learning from and forging connections with people. He also enjoys music, trivia, crossword puzzles, exploring the outdoors, and cheering on the Cleveland Browns, Guardians, and Cavaliers.
More About Mike
Client & Project Portfolio

Strategic Planning

Spelman College
University of Detroit Mercy
University of Missouri Online

Board Retreat

Rosalind Franklin University of Medicine and Science, Retreat Facilitation

Education & Certifications

BA in English and Media Studies from the University of Virginia

Assistant to the Senior Vice President for Academic Programs and Program Coordinator, Council of Independent Colleges, Washington, DC
Litigation Paralegal, Eadie Hill Trial Lawyers, Cleveland, OH
Multimedia Exhibition Intern, Albert and Shirley Small Special Collections Library, University of Virginia



StrengthsFinder Profile

Empathy

Adaptability

Strategic

Positivity

Learner

REACH Style: Counselor

Enneagram: Type 5
Leadership Strategies Team
Mike is part of the Leadership Strategies Team. He works with the support of this group of wonderful people.