Our Team
Sarah Reese, IIDA, LEED® AP
Interior Designer / Planner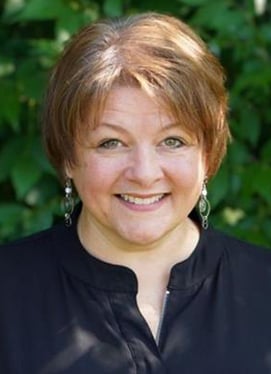 An accomplished interior designer for nearly two decades, Sarah Reese has developed multifaceted expertise across the field through her experience designing for corporate, retail, health care, and higher education clients. As a Credo Interior Designer and Planner, she creates timeless, innovative, and sustainable interior higher education spaces where students, faculty, and staff can learn, grow, and thrive.
Intentionally Designed Interior Higher Education Spaces
Sarah works with the Campus Planning and Architecture team to achieve clients' visions through designing the interior spaces of learning environments like libraries, laboratories, and classroom buildings; common spaces like welcome centers and dining halls; as well as various styles of student housing from freshman residence halls to student apartments and more.
Sarah's work includes not only designing interiors, but also researching and resourcing furniture selection, helping clients find the right furniture to enhance their built environments and the student experience. She provides recommendations, documentation, and coordination in purchasing, delivery, and installation for all products, selecting just the right colors, textures, fabrics, and finishes for each campus community she serves. Additionally, Sarah prepares interior 3-D renderings, construction documents, drawings, and bidding details to support client satisfaction and sales.
For Sarah, there's nothing better than seeing her work come to life as students, faculty, and staff enjoy their new, thoughtfully designed spaces.
It's rewarding to see the spaces we design come to life, and see they're being utilized how we imagined they might be. It's also exciting to see how campus communities settle into these spaces, and make them their own.
Cultivating Creativity, Inside and Outside of Work
Sarah's innate creativity extends to her free time, where she's an avid crafter and gardener. She also enjoys spending time with her family and participating in agility and obedience training with her dog.
More About Sarah
Client & Project Portfolio

Student Center & Welcome Center Design | McMurry University
South Campus Housing | Impact 360
Student Center & Commons | Brevard College
Student Center | Mars Hill University
Nursing & Public Health Center Renovation | Goshen College
Space Utilization Study | Denver Seminary

Education & Certifications

B.A., Interior Architecture, University of Wisconsin-Stevens Point
LEED Accredited Professional
International Interior Design Association (IIDA) Member

Interior Design Specialist/LEED Services, Smet Construction Services

Interior Designer/Associate, Berners-Schober Associates, Inc.
Campus Planning & Architecture Team
Sarah is a part of the Campus Planning & Architecture Team. She is proud to work with this group of wonderful colleagues.