With expertise across the higher education admission spectrum, Credo offers Undergraduate, Graduate, and Adult ACE® projects. "ACE" is an acronym for Assess, Counsel, and Empower. With Credo, you receive the commitment that our highly qualified team of enrollment experts will evaluate your recruitment and admission practices and work side-by-side with your team to ensure solid strategies are in place, the team is deployed and resourced appropriately, systems and processes are running smoothly, and the entire campus is mobilized effectively.
Expected outcomes include:
Clarity about the effectiveness of current strategies, systems, processes, operations, applications of data, enrollment research, and team deployment.
A highly detailed, prioritized list of recommendations including specific strategic and tactical recommendations.
Two months of ongoing consultation in person and via email around recommendations.
Campus-wide impact through the team presentation and individual meetings.
Contact a Credo enrollment professional to find out how an Enrollment ACE could empower your admissions department with resources, time, and clear objectives to contribute to your institution's enrollment growth.
---
DOWNLOAD Your Faculty Factor White Paper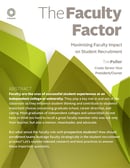 Get the scoop on how an
intentional partnership
b
etween
admissions
and the
faculty
can help take your campus guest experience to the next level to successfully recruit more best-fit students.
Download this white paper
to see the data, trends, and best practice recommendations.
---
Looking for some quick wins in the Admissions Department today? Check out these 11 tips from the
Credo Blog
:
---