Our Team
Dean Rodeheaver, Ph.D.
Senior Campus Planner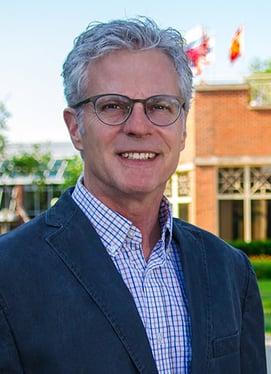 Campus planning is a bit like putting together a puzzle, and Dean Rodeheaver (he/him/his) enjoys a good puzzle. He sees an institution's many variables as puzzle pieces, and he enjoys thinking through how they can be combined in different ways to foster community and fuel student success. At Credo he's driven by the knowledge that this work strengthens not only the colleges and universities we serve but also the greater field of higher education, which he believes is the best way we can build more informed citizens and, ultimately, a better world.
Designing Environments That Inspire
Dean's approach to campus planning begins with observation and asking questions rather than jumping to answers. How does the campus community navigate and experience its built and natural environments? What improvements do they want to make and what goals do they want to achieve? Then, he merges what he learns with community input, offering recommendations that meet the college or university's needs while following best practices in the industry. Ultimately, Dean's goal is to empower an institution's community to transform its environment from a "campus" into a "place."
The campus is one of the most visible parts of a college or university's brand, and a big part of what we do is help campuses become inviting and welcoming, contributing to students' curiosity, sense of belonging, and success.
Building a Legacy
Dean's interest in higher education is personal as well as professional, having three children who've graduated from small liberal arts colleges and two who are attending large public institutions. As he nears retirement, he's re-energized by the chance to make a difference that will last.
More About Dean
Client & Project Portfolio

Campus Plans & Space Analysis

AdventHealth
Alfred University
American University in Bulgaria
Arcadia University
Beloit College
California Lutheran University
Lawrence University
North Park University
Ohio Wesleyan University
St. Olaf College

Education & Certifications

Ph.D., Developmental Psychology, West Virginia University

Assistant Chancellor, Professor of Human Development, University of Wisconsin-Green Bay
Campus Planning & Architecture Team
Dean is a part of the Campus Planning and Architecture Team. He is proud to work with this group of wonderful colleagues.