Our Team
Kevin Rolling, AIA, LEED® AP BD+C
Vice President for Campus Planning and Architecture / Owner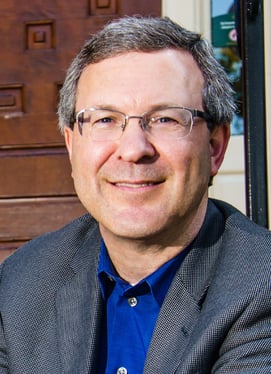 Kevin Rolling's approach to campus planning focuses on an institution's strengths, not just its challenges. He's particularly energized when working on renovation projects, he says, "because of the transformation that happens when new life has been given to something old."
Campus Planning With a Student Focus
A personable and transparent problem-solver, Kevin leads Credo's campus planning and architecture (CPA) team and heads the firm's Wisconsin office. He serves as the point-person for our CPA clients, managing budgets and coordinating project strategy and implementation. In each project, he is committed to ensuring that each facility design project aligns with the institution's mission and keeps student success as the ultimate goal. Kevin also shares the broad technical expertise he's gained over his 25 years as an architect to guide and mentor members of the CPA team.
I'm inspired by seeing our clients' hope and excitement as we work through a project and a vision comes to life that they didn't know was possible.
An

Architect

at Heart—and

at

Home
Kevin's interest in architectural challenges extends outside of work, too. He leads most of his family's home remodeling projects, toiling in everything from general carpentry to finishes. To really get away from it all, Kevin enjoys hiking in the mountains, waterfall hunting, and biking.
More About Kevin
Client & Project Portfolio

School of Nursing-Westlawn Renovation & Addition | Goshen College

New Graduate Housing | Impact 360

Campus Center, First-Year Advising Center, and New Residence Hall | Brevard College
Boyles Science Center Renovation and Addition, New Residence Hall, and Competition Shooting Range |University of the Ozarks

Campus Center Renovation and Addition | McMurry University

Campus Center Renovation and Addition | Mars Hill University

Residence Life Experience Plan | Nebraska Wesleyan University

Residence Life Experience Plan | Wittenberg University

Education and Certifications

B.S., Architectural Studies, University of Wisconsin-Milwaukee
Registered Architect, Illinois and Wisconsin
Member, American Institute of Architects
LEED® AP BD+C

Project Manager, Martinson Architects, Inc.

Project Architect, Richard A.M. Potokar, Inc.

Adaptability

Deliberative

Relator

Responsibility

Restorative
Campus Planning & Architecture Team