A Driving Strategic Enrollment Growth partnership with Credo integrates the critical elements of enrollment, pricing, and program mix to orient your institution toward sustainable health.
Achieving strategic enrollment health requires rich planning and a broad approach, connecting the work of the admission team with strong enrollment practices, and layering in the right mix of program pipelines, financial aid packaging, and tuition pricing strategies. The DSEG does just that, mobilizing a campus at all levels to drive increased net tuition revenue.
A deep research agenda of data mining and analysis, external surveys, and marketplace analysis builds a foundation for the DSEG. An on-campus assessment enriches the research findings; and interactive, cross-functional modules aligned with areas of greatest impact drive action, accountability, and results. One of the most important things you get out of this partnership is an updated, optimized Strategic Enrollment Management Plan, which will set up your campus for sustainable, ambitious enrollment growth.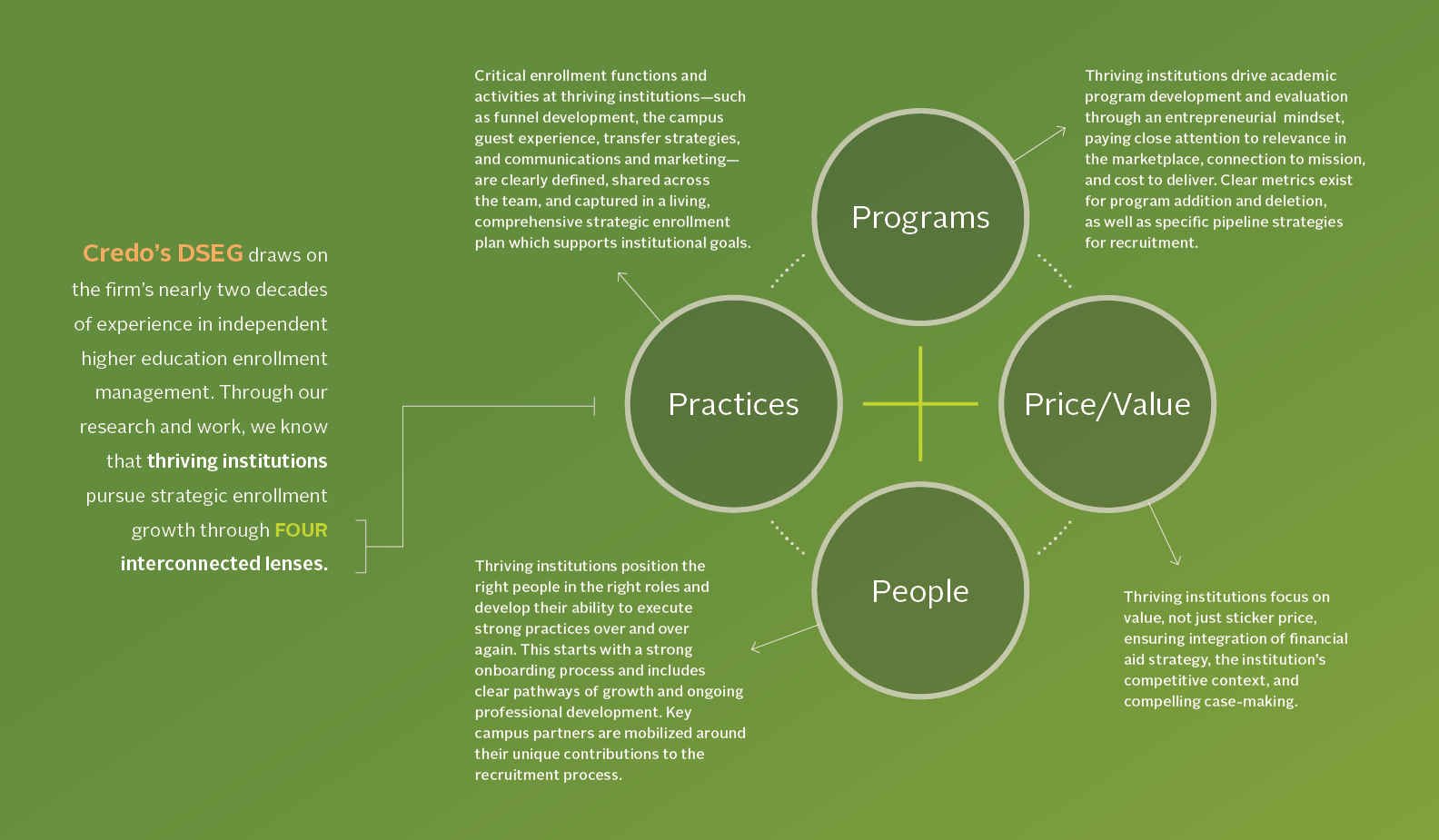 PHASE 1: Campus Readiness & Kick-Off > Research > Assessment
Credo's Data Review & Survey Research runs throughout the comprehensive projects, and includes:
Admitted Student Research
Staff and Resource Benchmarking
Funnel Analysis
Marginal Revenue Analysis
Program Landscape Review
Packaging Effectiveness Scan
Pricing Scan
Research underpins all our work together, and ties the phases and modules together in a meaningful way, resulting in actionable, implementable strategies for success.
PHASE 2: Module Selection > Module Implementation > Strategic Enrollment Management Plan
Based on what is learned during Phase 1, modules will be selected that will create the greatest impact on sustainable enrollment health and net tuition revenue.
Module Themes include:
Funnel Strategies
Data Mining & Application
Marketing & Communication
Program Growth Strategies
Program Value & Viability
Roles & Responsibilities
Team Training
Financial Aid
Value Proposition/Student Outcomes
Upon implementation, these modules strengthen the health and sustainability of your practices, people, programs, and pricing model, ultimately benefiting your enrollment and moving you forward in achieving net revenue goals.
Additionally, the key component of the final stage of the project is the Strategic Enrollment Management Plan, which serves as the roadmap for the enrollment team and the entire campus, providing both an assessment of the current state of enrollment efforts, as well as goals for the future and the strategies necessary to achieve them.
Outcomes of the DSEG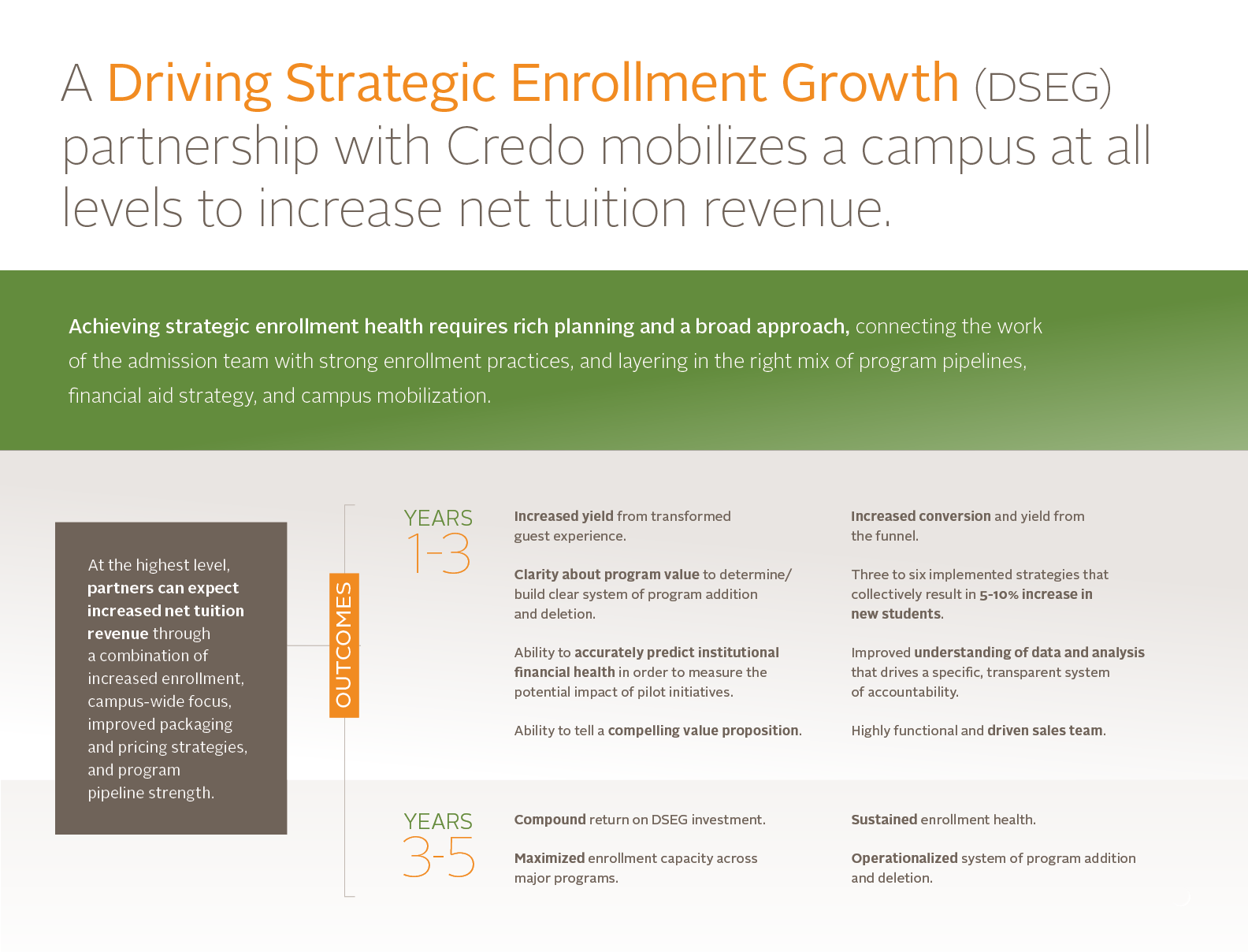 ---
Find out what one university leader has to say about what their admissions partnership with Credo has meant to their strategy, growth, and campus community.
"I get understanding because they've done it. They truly want to see the institutions that they work with succeed."

Vicki House, Vice President for Enrollment Management, Hardin-Simmons University
---
Learn more about this one-of-a-kind, comprehensive enrollment project and how to drive your own college or university's strategic enrollment growth. Download our Driving Strategic Enrollment Growth Guide to learn more and get started!
---
For additional information about this or any other Credo service offerings, contact us to start a conversation. We can't wait to build the future of higher education with you.