The Credo strategic plan is one that is alive
flexible, adaptable, and iterative. We can lay our process into any existing plan at any point in your planning or implementation process. Combined with your insider ideas, we'll provide diagnostic tools, data, and software to track your progress and make sure you're implementing your initiatives and successfully meeting your objectives over time.
Get on track or move further ahead than you thought possible by creating and implementing a strategic plan that will impact your institution's culture of innovation, habit of reflection and intentionality, and net revenue and strategic finance. Transform your entire campus with a tangible vision for success and empower your leadership, faculty, staff, and students to fully live out your mission.
Ready for real change? Let's get started. Call or email us to give your strategic plan a new purpose.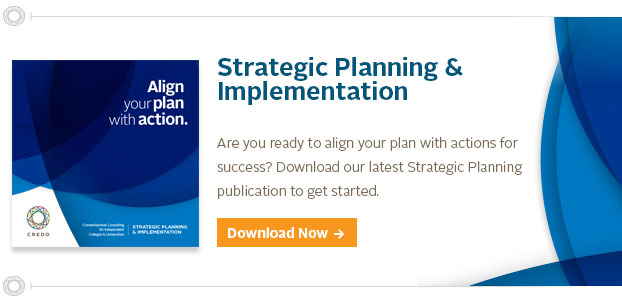 PARTNERSHIP STORY | Cedar Crest College - Driving towards strategic goals
From Strategy Day to Strategic Plan
"It is energizing to think creatively about how we see the next phase of the institution with outside professionals who have been working with a lot of different colleges … and [that's] what makes Credo special," observed Carmen Twillie Ambar, President of Cedar Crest College.
Ambar is now at an inflection point in her college presidency as she embarks on the second strategic plan of her tenure. Her cabinet is a fast-moving team and was looking for a like-minded planner who was really going to keep them on task.
What drove Cedar Crest College to Credo was the balanced scorecard. It appealed to their way of thinking about the one or two key things they can do that will have the most ability to move the college forward. Credo is also helping Cedar Crest take all the data collected on campus, and determine the most effective ways to use it for the strategic goals of the institution.
Stay tuned for more as Cedar Crest builds and implements its strategic plan for the future and find out the full story behind why Cedar Crest College chose Credo as their Strategic Planning partner following President Carmen Twillie Ambar's no-fee Strategy Day.