In master planning, we start with the assumption that students must find the campus itself a compelling place to be – that it is attractive and, more important, begins to create a sense of belonging. In other words, students need to be able to say, "I can see myself there." The campus itself needs to capture your institution's compelling narrative.
Our goal in campus master planning is identifying the environments you need to create an intentionally designed student experience that facilitates their success and yours. We will examine the efficiency and effectiveness of spaces and places and compare them against best practices.
The result is a living, actionable, experience-focused plan for the physical future of your campus.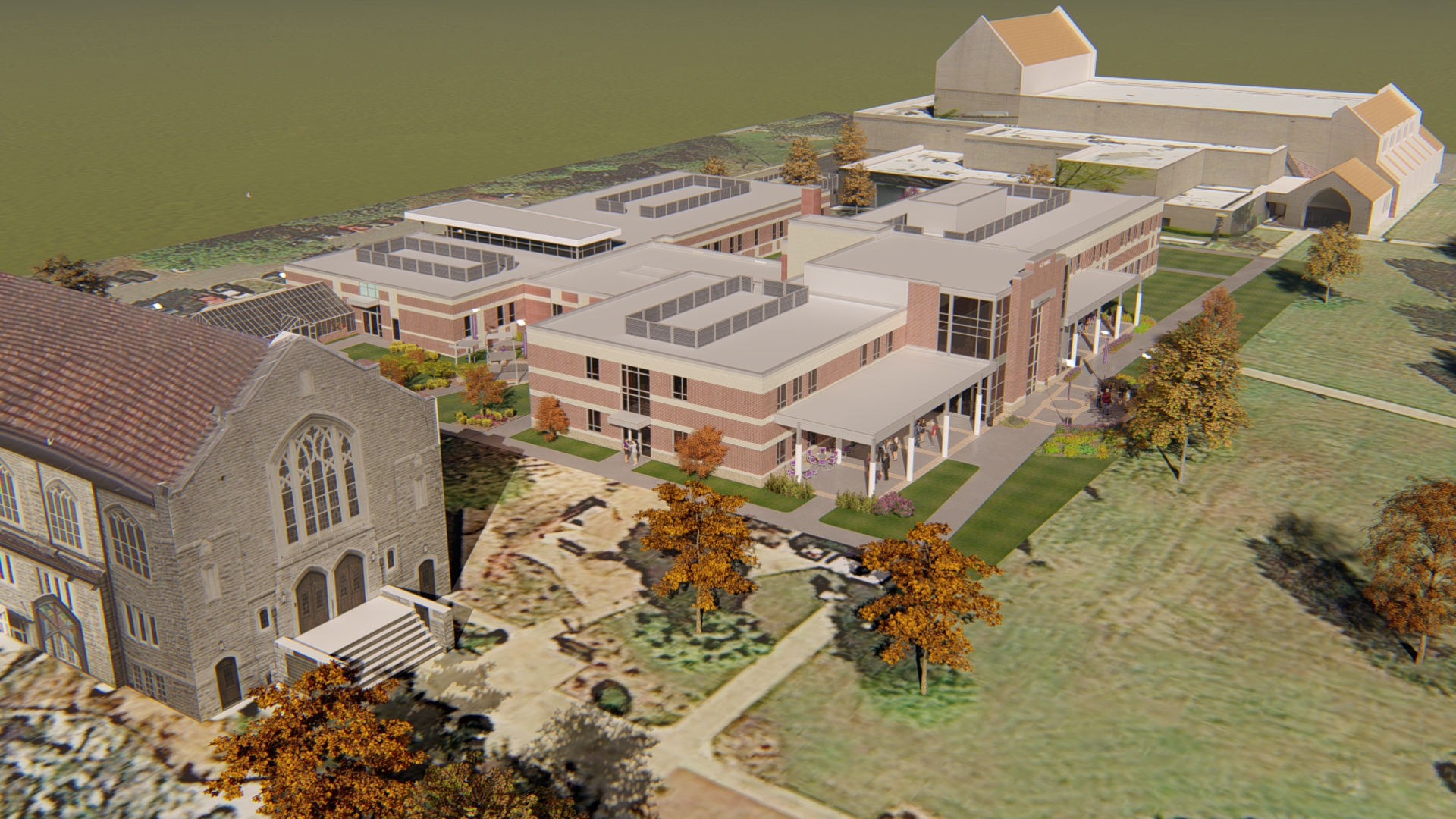 One of the things I value the most is Credo's ability to propose innovative designs that are based on our needs as a University, not their own preconceptions or templates. The designs are forward-thinking and cost conscious. I think the biggest asset is their experience in the higher ed environment, especially their work with smaller independent colleges. I think they bring an expertise that might be harder to get with an architect that designs for many different types of environments.

-Richard L. Dunsworth, J.D, President, University of the Ozarks
The Credo Master Plan is inclusive of the many perspectives on your campus, and gives voice to the constituents who will benefit most from its culmination: students, faculty, staff, and more. Through puzzle play and cooperative design, we dream together to find the elements of a master plan that will fit together to enliven your campus, connect people and resources, and result in the plan that is best for your community.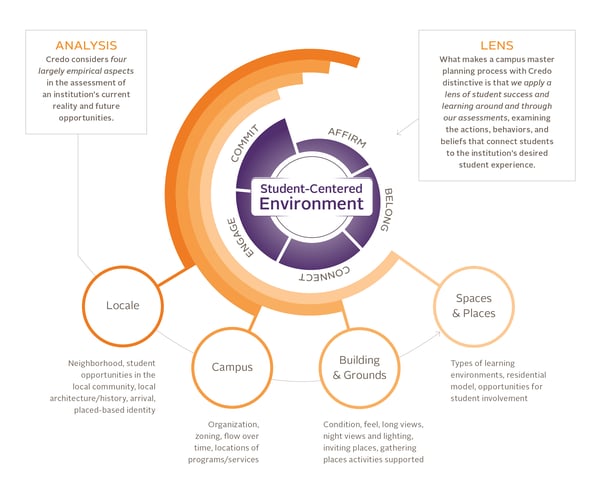 Benefits of a Credo Campus Master Plan
A Campus Master Planning partnership with Credo will:
Position your institution for a period of strategic, action-oriented capital deployment for an engaged and sustainable campus.
Facilitate community engagement whereby all campus constituents are invited to contribute to an authentic depiction of the desired student experience.
Steward campus site, space, and facility resources through a comprehensive analysis of space utilization.
Align resources with prioritized campus needs.
Create a physical depiction of the college or university's distinctives, core values, mission, and values.

What does the Credo Campus Master Planning Process look like?
Credo will utilize our five-phased approach centered around on-campus interactive workshops. The workshop format provides the Credo planning team a deeper understanding of your college or university's strategic goals and efficiently gathers the necessary data to develop the plan, while fostering institution-wide thinking and active participation in the development of the plan.
In addition to--or apart from--the Campus Master Plan, we can also assist you with a Space Utilization Assessment, to help maximize your resources and investments in the campus. Credo's space utilization process links an institution's learning paradigm with student success, specific pedagogy, and the space needed to meet those goals.
Organizing for Success: Campus Master Plan Initiation Meeting
We will set the course together for the campus master planning partnership with the Board of Trustees and critical campus leadership, identify critical participants for each phase of work, review critical planning parameters (scope, budget, goals, objectives), and begin to shape the planning context (strategic initiatives, Board directives, and other guidance).
Phase 1: Campus Fact-Finding
Credo will conduct an initial study of campus at the program, formal, and spatial levels; and a thorough assessment of campus atmospherics, facilities, site, and spaces. Campus community engagement through Town Hall- style gatherings layer qualitative data into these initial examinations.
Phase 2: Campus Space and Place Requirements
Focused explorations based on early discovery often include residence life, academic program expansion, learning centers and environments, and student success. We create a summary table showing current space use, projected space needs, and strategic locations and adjacencies.
Phase 3: Milestone Workshop – Visioning the Future Campus
A milestone workshop reviews learning thus far in the project and connects the student experience to brand promise and value proposition; creation of identity, belonging, and community; approach to teaching and learning; holistic student development and pathways; and educational partnerships within and outside the college.
Phase 4: Charrette & Campus Master Plan
Engaging various constituencies in tactile, 3D puzzle play with a scale model of your campus identifies strategies and options for space and place.
Phase 5: Campus Road Map
Identification of the preferred scenario guides and action plan for implementation including projects, planning-level cost estimates, and a phasing plan strategically tied to a resource allocation model.
"Credo helped us make sense of it all. What a company like Credo brings is a depth and breadth of compassion, and intellect, and quite frankly experience across a number of institutions."

-Steve Theodore, Senior Vice President for Administration and Chief Operating Officer, University of Mary Hardin-Baylor
Hear how one campus partner describes the benefit of thinking strategically with a comprehensive partner about campus master planning.
Find out more about the benefits of a Credo Campus Master Plan and how your campus can create your own plan for the future. Download your free Campus Master Planning Guide to get started. We can't wait to plan with you!