Our Team
Allison Ash, Ph.D.
Associate Vice President of Strategy and Operations for Student Success & Senior Consultant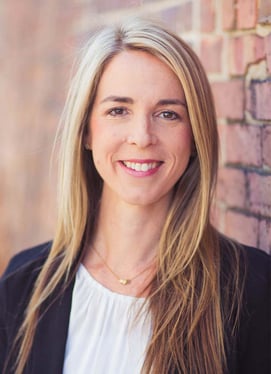 Allison Ash (she/her/hers) plays a crucial dual role within Credo and for our clients. She devotes the skills and knowledge she's gained from leadership experiences inside and outside of higher education to help make our work—particularly the Moving the Needle program—more efficient and scalable. Yet Allison's true gift is her ability to lead with empathy, ensuring that each colleague and client she works with feels empowered in the work that they do.
Leadership Rooted in Hands-On Experience
As a Senior Consultant for Student Success, Allison oversees a senior project manager and three associate consultants engaged in the Moving the Needle program, all while engaging in client-facing work of her own. Those experiences inform her role as Credo's Associate Vice President of Strategy and Operations, in which she coordinates the installation and use of tools, such as the Success Intelligence Platform, that facilitate the work of the Moving the Needle program. Her efforts are vital in ensuring Credo continues to meet clients' varied needs.
I love working as part of a team where we can support one another and create synergy to dream of new ideas to help our campuses achieve inclusive, equitable student success.
Exploring Diversity, Equity, and Inclusion
Allison has served as an adjunct dissertation chair and an adjunct or guest faculty member for several institutions. Her teaching and research focuses on diversity, equity, and inclusion, particularly the concept of racial justice in Christian higher education. Allison's published work includes "The Paradox of Faith: White Administrators and Anti-Racism Advocacy in Christian Higher Education" (Christian Higher Education, 2017), co-editing and contributing a chapter to Diversity Matters: Race, Ethnicity, & The Future of Christian Higher Education (Abilene Christian University Press, 2017), and co-authoring White Jesus: The Architecture of Racism in Religion and Education (Peter Lang, 2018).
At home, Allison loves spending time with her daughters and her mini-Labradoodle. Fun fact: She also sings and plays keyboard in a rock band.
More About Allison
Client & Project Portfolio

Moving The Needle Clients

Anna Maria College

Faulkner University

Felician

University

Student Success Implementation

MTN Design & Support

Moodle instructional design
Technology partnership oversight

Education & Certifications

B.A., Music, Hope College

M.Div., Theology and Art, Fuller Theological Seminary




Ph.D., Higher Education, Azusa Pacific University

Adjunct Dissertation Chair, Maryville University of Saint Louis

Adjunct Faculty Member, Messiah College

Dean of Student Care & Graduate Student Life, Associate Dean of Student Care and Services, Wheaton College

Student Development Director, Director of Vocational Discernment & Career Services, Chaplain, Fuller Theological Seminary

StrengthsFinder Profile

Futuristic

Connectedness

Achiever

Intellection

Empathy

REACH Style | Coach

Enneagram Profile | Type 2

Myers-Briggs | INFJ
Student Success Team
Allison is part of the Student Success Team. She works with the support of this group of wonderful people to deliver Moving The Needle to client campuses.