Our Team
Destiny Harper-Lane, DBA
Associate Consultant for Student Success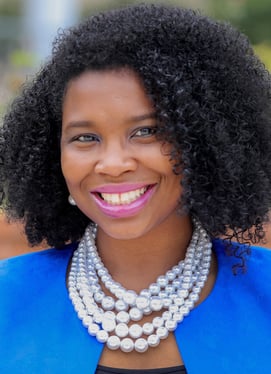 Destiny Harper-Lane (she/her/hers) brings an essential balance of experience, passion, and intentionality to the work she does at Credo. She has worked in a variety of higher education settings, including four-year private and public institutions, as well as two-year community colleges. She also served as a manager for an international big-box retailer, which sparked her research interest in organizational leadership—particularly improving culture and staff retention. She draws on the skills and knowledge she gained in both worlds in her role as a Credo Associate Consultant, where she develops institutional leaders and facilitates student success.
A Multifaceted Approach to Achieving Student Success
Destiny drives success within the Moving the Needle project by leveraging her strengths to build meaningful and strategic campus partnerships to improve processes and results, while also maintaining exceptional customer service to our clients. She relies on her deep subject matter expertise in student success—including areas such as first-year experience, student life, admissions and new student orientation—to help our partners reach their goals. Her role at Credo focuses on implementing intervention strategies that proactively support at-risk students, building capacity among institutions' middle talent through Success Initiative leadership, and developing and deploying high-impact practices that can improve student retention.
I love impacting change alongside the key constituents that drive sustainability and success. I appreciate that the work we do has a broad reach and improves the lives of students, families, and generations to come.
COMMITTED TO LEADERSHIP, SERVICE & EXCELLENCE
In addition to her work with Credo, Destiny devotes her leadership skills to several community organizations. She is an active charter member and the inaugural Vice President of the Nu Eta Sigma Alumnae Chapter of Sigma Gamma Rho Sorority, Inc.; is the New Members Coordinator and a Women's Ministry Leader for The Message Church; a Deputy Voters' Registrar for Bexar County, Texas; and a Notary Public. But if you ask her what she's most proud of, she'll tell you: her greatest accomplishment is being mom to her amazing daughter Harper and adorable twins Charles and Cheyenne.
More About Destiny
Client & Project Portfolio

Moving The Needle Clients

Anna Maria College
Bluffton University
Charleston Southern University
Dakota Wesleyan University
Felician University
Misericordia University
Roanoke College
Schreiner University
Texas Lutheran University
Wittenberg University

Education & Certifications

B.A., Psychology, Berea College

M.S., Community Counseling, Northern Kentucky University




D.B.A., Leadership, Walden University

Certification, College Student Development Administration, Northern Kentucky University

Interim Dean of Students & Associate Director for Student Success/Student Life, St. Philip's College/ Alamo Colleges District
Coordinator for New Student Orientation & Welcome Center, Northwest Vista College/ Alamo Colleges District
Executive Team Leader for Operations, Logistics, & Guest Services, Target Corporation
Residence Hall Director & Coordinator for Office of African American Student Affairs, Northern Kentucky University
Admission Counselor, Berea College

StrengthsFinder Profile

Significance

Achiever

Competition

Activator

Responsibility

REACH Style | Coach

Enneagram Profile | Type 3

Myers-Briggs | ESFJ-A
Student Success Team
Destiny is part of the Student Success Team. She works with the support of this group of wonderful people to deliver Moving The Needle to client campuses.