Our Team
Amy VanDerWerf Carroll, Ed.D.
Senior Consultant for Student Success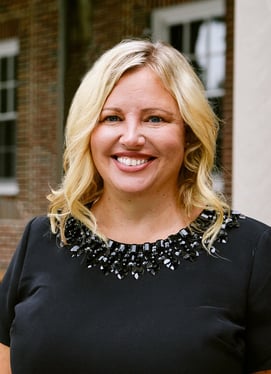 Amy leads client projects that are laser focused on the success, retention, and positive learning outcomes for students of higher education. Whether she is facilitating a Student Success ACE®, partnering with our Campus Planning and Architecture teams to design a Residence Life Experience Plan, or investing time over two years with a campus on the retention-building Moving the Needle initiative, Amy brings knowledge, experience, warmth, energy, and a bright sense of humor to each campus she partners with. Amy's expertise in higher education and student-centered retention work began as a labor of love as she came up through the ranks in student affairs on the campuses of small, independent colleges. Since 1997, Amy has lived and breathed student life: designing first-year experience programs, developing robust assessments for student life initiatives, liaising between student affairs and academics, and serving as a catalyst for positive change.
Prior to joining Credo, Amy served as the Dean of Student Engagement at the University of Northwestern in St. Paul, MN (UNW) where she provided visionary and strategic leadership to design and deliver high-impact practices to advance students' learning in and outside the classroom. Prior to joining UNW, Amy served as the Director of Residence Life for Messiah College, where her work focused on residential curriculum, seamless learning, and assessment practices. Amy continues to utilize her skills and talents to empower Credo's partner campuses as they focus on strengthening student engagement, program design and implementation, student leadership development, crisis management and support, parent-and-family engagement, and building deep and trusting relationships with key stakeholder groups.
Amy also remains active in professional organizations, presenting on topics of student success. Amy has served on the executive committee of ACSD and was the proud recipient of the 2012 Bamford Award. Amy earned her bachelor's in human resource management from Northwestern College (now University of Northwestern) and her master's in higher education from Geneva College. Amy holds an Ed.D. in Higher Education Leadership from Azusa Pacific University, with a research on the structures and practices that foster academic and student affairs collaboration.