Our Team
Darald Stubbs
Associate Consultant for Student Success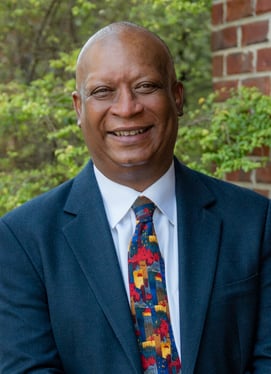 Darald Stubbs (he/him/his) has a wealth of experience in higher education—and that might be under-selling his credentials. He has more than three decades of on-campus work to his credit, leading crucial student success areas such as personal development, retention, recruitment, and diversity, equity, and inclusion. Darald has also worked in leadership, business development, finance, and organizational development for institutions outside of higher education. He leverages the many lessons he's learned throughout his career to effectively manage and steward his Credo clients.

Fostering Student Success Through Collaboration
Darald's work with our Moving The Needle program focuses on providing guidance, direction, coaching, and support for campus stakeholders throughout each step of the program, from design, to implementation, to assessment. He has a gift for establishing quick rapport and credibility with campus leaders, motivating them toward excellence, innovation, and impact. Darald takes a similar approach within Credo, collaborating with our Student Success team as they work to continually innovate and advance the Moving the Needle experience.
I am so happy and proud to work with other higher education professionals who are dedicated to the ongoing success of students and who are creating thriving, inclusive learning environments, on and off campus.
A College Connection, at Work or Play
The best part of the job for Darald? Working each day with Credo colleagues and campus stakeholders who are fully committed to creating student-centered environments. Darald's leisure time even has a higher-ed tie-in, as he's often cheering on his beloved University of South Carolina Gamecocks with his trusty Bernedoodle, Yogi, by his side.
More About Darald
Client & Project Portfolio

Moving The Needle Clients:

Albright University
Arcadia University
Averett University
Bluffton University
Charleston Southern University
Davis & Elkins College
Linfield University
Mount Saint Mary's University (LA)
Roanoke College
Roberts Wesleyan University
St. John's University
Texas Lutheran University
University of Mary Hardin-Baylor
Wittenberg University

Education & Certifications

B.B.A., Stetson University
M.Ed., Higher Education Administration, University of South Carolina
D.E.I. Certification, University of South Florida

Director of Student Services – Global UCF, Shorelight Education
Associate Dean of Students, Stetson University
Associate Executive Director of Finance, Southeastern Panhellenic Association
Vice President Business Development, Globe Travel Media

StrengthsFinders

Arranger
Strategic
Achiever
Learner
Relator

REACH Style: Coach
Student Success Team
Darald is part of the Student Success Team. He works alongside this team of talented people.