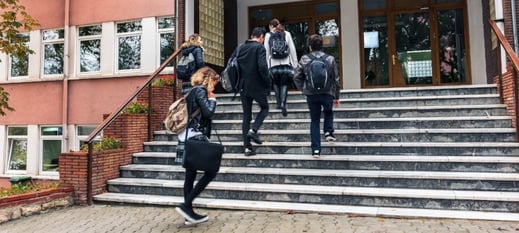 December 21 2016
For many colleges, the summer is "closing the deal" time with new students. I used to joke about the fist-sized dent in my wooden desk, created over time from the frustration following conversations with accepted students who had informed me they were attending another college after all.
"Why didn't they choose our college?" is the question I asked then, and the question that has been at the heart of Credo's Admitted Student Research (ASR) since summer of 2007. Since then we have learned a lot about student choices by analyzing responses from thousands of admitted students on behalf of over 70 private college campuses.
Here are 3 reasons students cite for not choosing a particular college or university:
1. mom played a big role in college decision
Who is the most influential person in a student's college decision-making process? No matter how we analyze or reformulate this question, the answer remains the same. Mom carries weight! Next on the list is dad, followed by friends. Who are at the bottom of the list? College counselors and clergy. When we are strategizing and making enrollment and recruitment plans, it's integral to plan with parents in mind.
How to turn it around: Make sure the campus guest experience includes specific, intentional time with parents. On the campus tour, highlight features and amenities that parents care about like safety, health care access, academic support systems, and job placement.
2. Value is More Important than Affordability
How much more financial aid would it have taken to change any given student's choice? The quick answer is "a lot!" We ask all non-matrics if more aid would have made a difference. On average less than 50% say yes. For those who say yes, we ask how much more aid, and 85% of the say it would have taken $6,000 or more in additional financial aid per year to change their minds. Most of these students indicate they filed a FAFSA and received a financial aid package, so they knew the facts. Their response could be about affordability but also about their quality/worth/value perceptions.
How to turn it around: The data suggests these students were not close to choosing our campus in the first place. It is a good reminder that leading with value is always better than leading with the deal. Deals are relative, and a "deal" may never be enough.
3. The Institution Failed to Meet Expectations in Most Important Areas
What factors about college are most important to students themselves as they finalize their choices? Over and over we see the following as being most important to our students:
1. Job and graduate school placement
2. Academic quality
3. Faculty (knowledge, teaching ability, and mentoring)
How to turn it around: It is critical to gather outcomes data systematically and comprehensively. Share this data across platforms, and focus it prominently on your website. Make sure enrollment information is easy to access on your website, and collaborate with faculty and staff to update bios and program profiles to address the students' top three.
Considering the Reasons Students Choose a College is critical in Planning an Enrollment Strategy
Admitted Student Research is an important component of enrollment research strategy. We recommend studying admitted students at least every other year and comparing the results to previous years.
Studying your admitted students? Important. Applying the results to your recruiting strategies? Critical!
Share This Post
Recent Posts
Categories