DWU's Dr. Amy Novak Wins the 2019 Courageous Leadership Award
November 26, 2018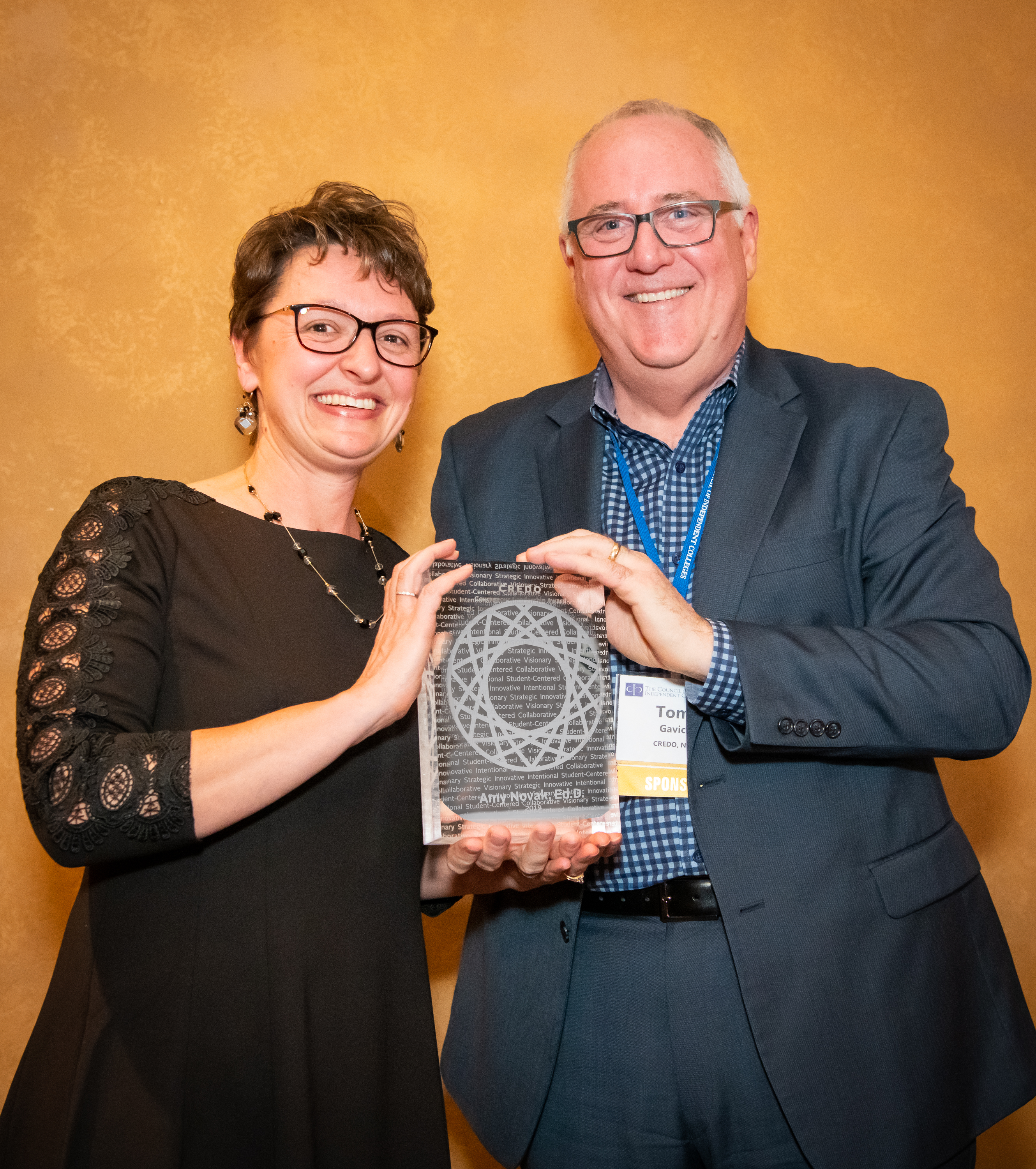 Credo is thrilled to announce President Amy Novak from Dakota Wesleyan University, Mitchell, SD, as the winner of the upcoming 2019 Courageous Leadership Award, given during Credo's annual dinner at the CIC Presidents Institute.
Leadership award recipients demonstrate one or many of the following achievements as a part of their institutional leadership:
Institutional growth across one or more key indicators: enrollment, fundraising, retention.
A proven track record of fostering collaborative relationships among individuals and teams within their institution.
Acknowledgement by peers and/or within the field of higher education as an advocate and champion of independent higher education.
Articulation and execution of a clear vision for the future of their institution.
Next-practice innovation in operations, academics, net revenue, strategic planning, student success, or other critical areas.
Strategic, game-changing planning for and investments in campus spaces and places.
It's safe to say that Dr. Novak checks all these boxes--and does so with great aplomb.
A catalyzing leader and determined problem solver, Dr. Novak became the first female president of Dakota Wesleyan University in 2013. In just a short time, the enrollment, retention, and fundraising at this rural university all increased dramatically, leading to the addition of a 50,000 square foot science center, a 90,000 square foot health and wellness complex, a 25,000 square foot theatre and performing arts space, a 114-bed residence hall, and plans are in the works to break ground on a new school of business in 2019. Since she assumed the presidency in 2013, the university has raised nearly $45 million, increased enrollment for a record-breaking five straight years, and had an all-time institutional high in retention in 2018.
As President, Dr. Novak set out to make DWU an active leader, community partner, and incubator for economic growth and entrepreneurial thinking in South Dakota with an explicit connection to serving rural communities and students. She and her team created and continue to cultivate and nurture bidirectional partnerships with local technical colleges, industries, and businesses. Successes from such partnerships include critical workforce development in the areas of healthcare and education. DWU is now a leader in rural workforce development, contributing to the sustainable growth of communities, a healthier South Dakota, and their graduates' future job security. The momentum from such partnerships has reinvigorated the campus, the community, and South Dakota. DWU stands as a compelling model for other small, rural colleges to examine.
Always looking to improve the university, her student's career prospects, and community partnerships, Dr. Novak says, "I spend a considerable amount of time meeting with business leaders, non-profit leaders, and state and local government officials to find ways that higher education can be of value in a more sophisticated way for business and industry."
The roots of these external partnerships take hold inside the classroom. The university's curriculum includes required coursework in innovation, creativity and problem solving, financial literacy, and applied leadership, as well as a four-year program designed to prepare students for the life skills integral to post-college success. From a student's classroom experience to their practicum or internship through their ongoing career, Dakota Wesleyan is the crux of an ever-extending vital pipeline, connecting opportunities with resources, and infusing the community with well-prepared nurses, teachers, business leaders, problem solvers, and thoughtful, engaged citizens. Dr. Novak remains deeply invested in supporting first-generation, low-income college students and sees the development of the spiritual, emotional, physical, and intellectual mobility of students as a fundamental role of the university.
A South Dakota native, Dr. Novak attended Mitchell High School, majored in history at the University of Notre Dame, earned a master's in economics at Wright State University, and obtained her Ed.D. in interdisciplinary leadership from Creighton University.
Amy, since you assumed your role as President of DWU, you continue to push DWU to greater heights, to the extraordinary benefit of both your students and of South Dakota. Thank you for your vision and leadership in higher education. We are so proud to partner with you and your university, and we look forward to seeing what groundbreaking new ideas and innovations are still to come.

PREV

NEXT