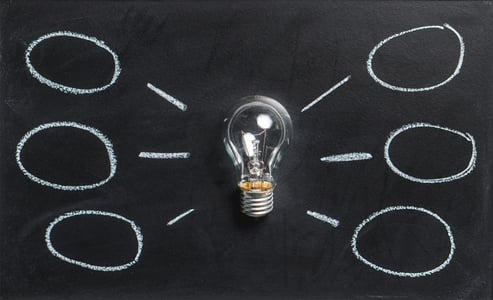 July 30 2019
Inherent in a pivot at any institution is an extraordinary amount of change.
At a recent presentation of new teaching technologies and methods, a faculty member observed the new methods and approaches to incorporating technology into the classroom and lamented, "I didn't sign on for this twenty years ago."
Think about that statement in the context of the monumental changes in technology and research on learning that have occurred over the past two decades. This professional is fearful of the evolution of his profession because it means changing how he does his work. There is a normal fear of change embedded in that statement that we all feel at various times of our lives as new approaches emerge and take hold in our career, but there is also an element of absurdity as well—if you went to a cardiologist because you had a heart problem that needed surgery and your surgeon said, "I perform heart surgery with the same tools and knowledge and techniques that I learned twenty or thirty years before, because that's how I prefer to work," patients would leave as fast as their feet could carry them, never to return.
The world of rapid adaptation and continuous learning into which our students are entering demands our own adaptation and learning. But we do want to acknowledge the fear of change and the different ways in which people handle it. There has been a great deal of study and research done on the ability to adapt early to change and how small the percentage of the population is that will embrace it.
Rogers' Technology Adoption Curve gives us an example of the challenges we intuit in our experiences with introducing new ideas, tools, and processes at our institutions:
A mere 2.5 percent of the population are true innovators—those who have both the willingness to take risks and desire to experiment.
Another 13.5 percent are considered early adopters—people who are more selective about what they try but are willing to step in relatively early. Others looks to the early adopters for their feedback and experience.
A full 68 percent represent the aptly named majority, split evenly between the early majority—who adopt new ideas once they understand how it will fit into or affect their lives, and the late majority—who adopt because of peer pressure or economic necessity.
The final 16 percent—as much of the population as the innovators and early adopters together—make decisions based on past experiences and/or are unable, economically or otherwise, to adopt new ideas.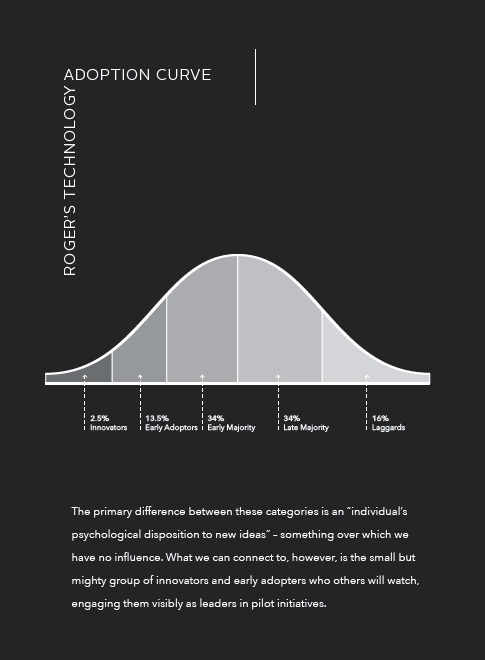 The primary difference between these categories is an "individual's psychological disposition to new ideas"—something over which we seemingly have no influence. What we can connect to, however, is the small but mighty group of innovators and early adopters who others will watch, engaging them visibly as leaders in pilot initiatives. Beginning with the willing and linking their innovative initiatives with clear outcomes has been the method used in every one of the institutions featured in this book.
Sweeping change happens after small seeds of change have been nurtured for growth.
---
Challenge Questions
Who are your campus innovators? How do you identify innovators and cultivate an environment where people are rewarded for risk-taking grounded in trust?
Who are your early adopters? Who are your champions for change? Which of your constituents are quickly motivated and are regularly ahead of the curve?
How does your campus support the late adopters? What resources exist for professional development around technology readiness, adoption, and integration? How do you encourage forward momentum in those seemingly disinterested in change?
Does your campus have intentional, effective change-management practices in place to make communicated transitions as smooth as possible?
What obstacles stand in the way of your campus's innovation? What can your leadership do to turn obstacles into opportunities for growth and change?
---
Innovating and creating change takes intentionality and planning. Credo takes the guesswork out of planning by providing a visual strategy map, integrative software to track your plan's progress, and, most importantly, a team of strategic planners and change managers as dedicated to your institution's success as you are.
See the difference a partnership can make. Let's build the future of higher education together.
---
© Credo and www.credohighered.com, 2018. Unauthorized use and/or duplication of this material without express and written permission from this site's author and/or owner is strictly prohibited. Short excerpts and links may be used, provided that full and clear credit is given to Credo, Credo Press, and www.credohighered.com with appropriate and specific direction to the original content. Please email info@credohighered.com for information on how to obtain a full copy of Pivot: A Vision for the New University or for permission to use excerpts from the book and/or blog series.
Share This Post
Recent Posts
Categories