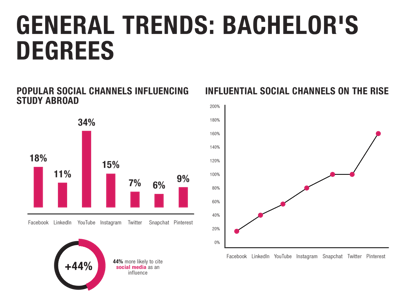 July 3 2018
Social media is a highly influential source of information for international students thinking about studying abroad. While platforms like Facebook, Instagram, and YouTube lead the pack, there is growing rise in popularity around other platforms that many universities may not yet be utilizing as part of their marketing and recruitment strategies.
According to a report by educations.com which is based on their survey of over 20,000 international students, prospective undergraduate students today are 44% more likely than people who have studied in the past to cite social media as a major influence on enrollment, while postgraduate students are 60% more likely!
Influential social media channels
YouTube leads the way with 34% of undergraduate students and 50% of postgraduate students using it to get inspired and find more information about their studying abroad options. This is in line with the growing trends in videos as a highly important content type. Sixty-seven percent of students said that videos helped them choose which country to study in, while 79% said videos helped them pick a specific university.
As well as YouTube, Facebook and Instagram were among the most popular platforms currently being utilized by universities and students alike. However, alternative platforms are on the rise with more and more students looking for new and exciting ways of interacting with universities and getting inspired to study abroad.
For undergraduate students, Pinterest has seen a 160% rise in popularity as a source of information for making study abroad decisions. Additionally, Twitter and Snapchat have doubled.
For postgraduate students, Instagram has seen a 140% growth, and Pinterest has doubled. While LinkedIn remains a popular social media platform for students studying a Master's or PhD degree, it has seen a smaller 20% growth in recent years.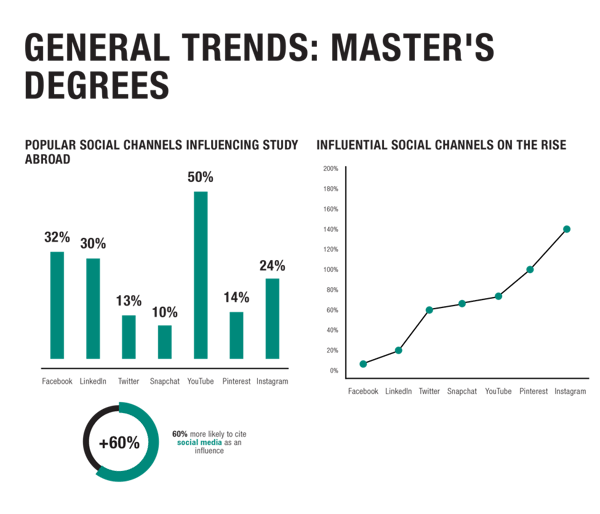 How can we use this information?
The reality of student recruitment is that competition is very high. But we know that students today are responding much more positively to inspirational and personal enrollment-marketing campaigns, which means that social media is a prime opportunity to connect with students and market to them in a way that seems personalized and transparent.
At Credo, we help you enroll best-fit students and recruit for all your programs—here and abroad—by designing tailored enrollment strategies. We can help you utilize social media as a recruitment tool for prospective students as part of a full complement of evidence-based, effective recruitment tools. Contact an enrollment specialist today to build your recruitment efforts.
Share This Post
Recent Posts
Categories