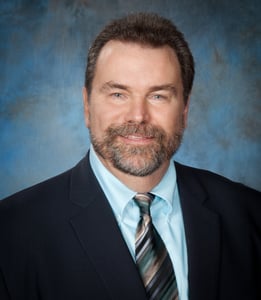 November 12 2019
Credo is excited to announce Dr. Thomas J. Flynn, President Emeritus of Alvernia University, as the recipient of our seventh annual Courageous Leadership Award.
Thomas J. Flynn, known to his friends and family as Tom, spent 20 years as a college president, 14 of which were dedicated to the radical growth and transformation of Alvernia University. Dr. Flynn is a dedicated scholar, meticulous planner, and ambitious visionary. With such great leadership strengths over a lifetime spent dedicated to improving access to education, building communities, and leading with courage, it is no wonder that Tom's career has been—and continues to be—so expansive, impactful, and inspiring. It is for this and much more that Credo presents the seventh annual Courageous Leadership to Dr. Thomas J. Flynn.
"In our partnership with Tom and Alvernia, we were continually impressed by how Tom fostered a strategic and caring relationship with the leadership of the sisters, worked with his team to transform the campus into a residential student experience, and thoughtfully planned for a smart executive transition," said Tom Gavic, President / CoFounder of Credo.
Presented each year during the Council for Independent Colleges (CIC) Presidents Institute, the Courageous Leadership Award is given by Credo to recognize an innovative leader in independent higher education. Recipients demonstrate one, or many, of the following achievements as a part of their institutional leadership*:
Institutional growth across one or more key indicators: enrollment, fundraising, retention.
A proven track record of fostering collaborative relationships among individuals and teams within his or her institution.
Acknowledgement by peers and/or within the field of higher education as an advocate and champion of private higher education.
Articulation and execution of a clear vision for the future of his or her institution.
Next-practice innovation in operations, academics, net revenue, strategic planning, student success, or other critical areas.
Strategic, game-changing planning for and investments in campus spaces and places.
Some of Dr. Flynn's most notable achievements were chronicled by Alvernia University as the community reflected upon his illustrious presidential career:
• "Alvernia' s emergence as a national model for civic engagement and interfaith dialogue, led by two endowed centers-the Holleran Center for Community and Global Engagement and the O'Pake Institute for Ethics, Leadership, and Public Service — that jointly sponsor the Reading Collegiate Scholars Program, which provides access to higher education for students in underserved districts;
• Numerous partnerships both locally and internationally that have expanded the university's presence and positive impact, while ensuring 100% of Alvernia's undergraduates complete one or more 'real world learning' opportunities;
• The doubling of the endowment and 13 years of all-inclusive, balanced budgets and financial stability amidst a turbulent environment; and
• Transformation of the campus itself, with a new campus entrance; Founder's Village and the Campus Commons; upgraded facilities for teaching and learning, fine arts, and athletics; and the PLEX (the Recreation, Wellness and Health Sciences Complex, a 100,000 square foot facility) - Alvernia's most ambitious project ever."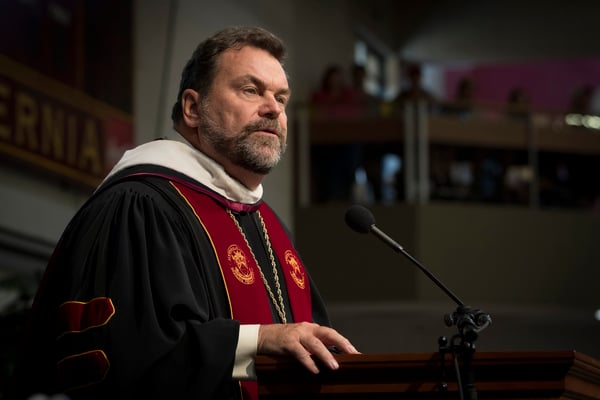 As a result of Dr. Flynn's leadership, the university currently offers more than 50 fields of study, including three doctoral degree programs and in-demand programs in healthcare and human services like nursing and occupational therapy. Dr. Flynn identified the greatest needs in the surrounding community, and intentionally created pipelines for student's to fill positions in local hospitals, healthcare centers, and local businesses and nonprofits.
"He brought hope that education is within people's reach," said Ginny Hand, retired former director of Alvernia's Holleran Center for Community Engagement; former mayoral Chief-of-Staff.
"Tom has been unwavering in his commitment to our Franciscan mission, our identity as a Catholic university and the living legacy of our sponsors, the Bernardine Franciscan Sisters," said Kevin St. Cyr, chair of Alvernia's board of trustees.
But even beyond his tenure on campus, Dr. Flynn, led by these deeply held values, has monumentally impacted the greater Reading and Berks County, as well. Tom has created access to higher education for students in financially depressed communities, not only by bringing students to campus, but also by giving back the resources of the campus to the greater community through his time, efforts, and generosity. Additionally, Dr. Flynn has a documented record of standing up for social justice, and ensuring he uses his influence and power to foster inclusive, diverse communities. Understanding the strength of inter-faith collective action and the need for increased dialogues within communities, Dr. Flynn led the University to publish a Statement of Commitment to Civil Dialogue and Freedom of Expression, which helped frame critical conversations in the community through the respectful exchange of ideas.
"He leads by actions, not just words. He believes it is always important to consider perspectives that are different than your own," said Jewish Federation of Reading/Berks President William D. Franklin.
Even before arriving at Alvernia, Tom was already a dedicated scholar, rising leader, and an enthusiastic, supportive spouse and father. After marrying his graduate school sweetheart Helen, Dr. Flynn taught English at Mount St. Mary's. Following, the Flynns moved to Decatur, Illinois, for Dr. Flynn to serve as the Provost and then President of Millikin University. Dr. Flynn, led by his core values, passion, and drive for Catholic education, made the decision with his family to move to Reading, Pennsylvania, and assume the presidency of Alvernia, returning to his Catholic roots. Alvernia and the greater Reading community would become their forever-home, where they lived for Dr. Flynn's fourteen-year tenure as president, and then into today and the future.
In his role as one of Alvernia's most beloved and trusted leaders, Dr. Flynn led the institution through unprecedented growth, embracing the mission and leading by example, living out of the core values of the Franciscans and by embedding "knowledge joined with love" throughout all aspects of the university curriculum and culture.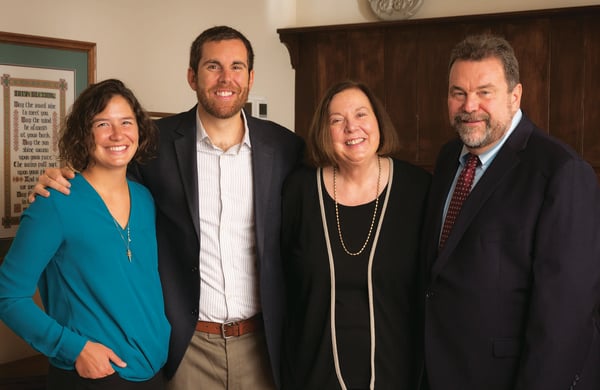 The Flynn family, pictured left-to-right: Anne Feczko, daughter-in-law to Tom and Helen; Daniel Flynn, son; Helen Flynn; and Tom Flynn.
As recent "retirees," Dr. Flynn and his wife Helen, an avid mystery reader, are looking forward to remaining in Reading, PA, but "living life differently." Dr. Flynn is currently a part-time Senior Fellow for both the Association of Catholic Colleges and Universities and the Association of Governing Boards, and looks forward to mentoring and younger leaders and strengthening shared governance for independent higher education.
To find out more about Tom Flynn, including his background, experience, and professional accomplishments, and to see this announcement's sources, please visit his official Alvernia University President Emeritus biography or the special issue of Alvernia Magazine, published to honor and celebrate the illustrious career and continuing contributions of Dr. Thomas J. Flynn. Additional sources include, "President Flynn to end 14-year journey at helm of Alvernia University" and "Thomas Flynn Retiring After 14 Years as President of Alvernia."

*To be considered for the Credo Courageous Leadership Award, a leader need not be a current or past Credo client.
All photographs are courtesy of Alvernia University.
Share This Post
Recent Posts
Categories