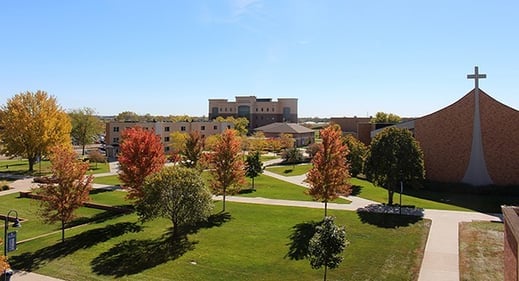 March 21 2019
DWU took a different approach to shaping the learning journey of its students, developing a general-education curriculum focused on preparing students for twenty-first century leadership and digital competency and aligning it with relevance for DWU's geographic area and South Dakota's economic drivers. At the heart of the new core lived the Learn Strong program, a series of courses focused on helping students discern their strengths and equip them with the necessary skills to become successful employees. Outcomes of participation in the Learn Strong program include the student:
developing an understanding of his or herself and others using the language of Clifton StrengthsFinder,
understanding and committing to personal behaviors that promote wellbeing in his or herself and others,
communicating effectively in personal and professional settings,
creating and making effective presentations in formal settings,
discerning and articulating his or her vocation, and
understanding and managing budgets.
The Learn Strong program embraced a holistic approach to education by developing professional communication and numeracy skills, honing leadership dispositions such as teamwork, ethical decision-making, resiliency, conflict resolution, and learning from failure through applied activities, role playing and simulations; as well as a series of breadth-of-knowledge courses designed to allow students to practically apply current issues to an understanding of scientific literacy, personal and professional financial literacy, civic engagement, and humanics. The four-year Learn Strong program complemented the academic-skill development acquired through the general-education program, the co-curricular experiences of the students, and the student's major program of study. Specific focus on resume writing and graduate-school preparation was complemented by mock interviews for each student with President Novak and community members. Sessions on professional networking, apartment leasing, health insurance considerations, paying student loan debt, and general post-college survivor skills were all embedded into the required program.
Six years after the initial launch of the Learn Strong program, the university faculty acted with responsiveness to the needs of the region by redesigning the core curriculum once again. Faculty from across the institution's academic programs have collaborated on this interdisciplinary approach to develop leaders equipped with the problem-solving and project-management skills vital to success. Beginning in the fall of 2016, all students were enrolled in a core freshman course called "Interdisciplinary Investigations: Creativity and Innovation." In this first course, students receive an introduction to the basic principles of innovation and project management as they identify and engage with a real community problem, develop and design possible solutions, then test, plan, and implement a strategy.
One particularly unique component of this course is the tolerance for failure. South Dakota, like the larger Great Plains regional economy, is largely comprised of small and medium enterprises developed by local entrepreneurs. This spirit tolerates, and even encourages, failure as a mechanism for learning and improving. Within this freshman course, students are encouraged to see failure as a growth opportunity, and explore questions such as:
What is conceptual creativity and how can we apply it now?
How do we discern and apply patterns and connections between seemingly disconnected subjects?
How do we apply the three-step innovation process of ideation, identification, and implementation?
How do we influence others to take interest in our ideas and to apply them?
How do teams negotiate and compromise between several potentially good ideas?
How and why do we pursue multiple solutions to a problem?
When is it best to work in groups? When is it best to work alone?
What makes an effective team, especially when there is no appointed leader?
The second core course during the sophomore or junior year encourages the students to build upon these competencies by engaging in specific leadership development alongside a community-based service-learning project. Working in teams, students can employ their leadership strengths and reflect on team dynamics, leveraging their knowledge and assets and those of the community partner to engage in an improvement project.
---
How are you affecting student learning environments and outcomes on your campus? Check out some of the great Student Success work Credo engages in, like our signature retention service, Moving The Needle, to find out how we can empower your campus's student success and retention numbers.
---
Download our recently updated case studies, "Thriving Institutions: New Lessons from Research and Practice," featuring institutions who successfully made a pivot.
© Credo and www.credohighered.com, 2018. Unauthorized use and/or duplication of this material without express and written permission from this site's author and/or owner is strictly prohibited. Short excerpts and links may be used, provided that full and clear credit is given to Credo, Credo Press, and www.credohighered.com with appropriate and specific direction to the original content. Please email info@credohighered.com for information on how to obtain a full copy of Pivot: A Vision for the New University or for permission to use excerpts from the book and/or blog series.
Share This Post
Recent Posts
Categories