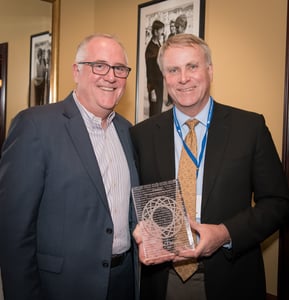 January 11 2018
Credo humbly acknowledges President Daniel J. Elsener of Marian University as the recipient of our fifth annual Courageous Leadership Award.
"Dan exemplifies courageous leadership in his commitment to the success of Marian's students, and how that commitment is lived out across the institution through programs and student service," said
Tom Gavic, President / CoFounder
of Credo. "We have been so deeply grateful for what we have all learned in our partnership with you about how the heart of a leader can become part of the fabric of an institution."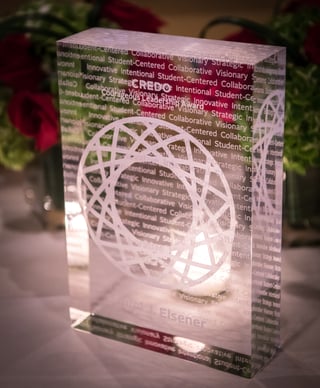 Presented each year during the Council for Independent Colleges (CIC) Presidents Institute, the Courageous Leadership Award is given by Credo to recognize an innovative leader in independent higher education. Recipients demonstrate one, or many, of the following achievements as a part of their institutional leadership*:
Institutional growth across one or more key indicators: enrollment, fundraising, retention.
A proven track record of fostering collaborative relationships among individuals and teams within his or her institution.
Acknowledgement by peers and/or within the field of higher education as an advocate and champion of private higher education.
Articulation and execution of a clear vision for the future of his or her institution.
Next-practice innovation in operations, academics, net revenue, strategic planning, student success, or other critical areas.
Strategic, game-changing planning for and investments in campus spaces and places.
Since his inauguration in 2001, Elsener has made an enduring mark in each of these categories. Under his dynamic leadership and get-it-done approach, Marian University continues to elevate its status as a well-respected institution of higher learning – achieving record-high enrollment, offering innovative academic programming, investing in new and improved campus facilities, and cultivating stronger partnerships with alumni and community leaders.
"Elsener is the kind of president who can set a seemingly impossible goal – and then design a plan for achieving it that brings others along for the ride," said President / CEO Michael Galligan-Stierle, Ph.D., of the Association of Catholic Colleges and Universities (ACCU). In introducing Elsener at Credo's dinner during the CIC Presidents Institute, Galligan-Stierle described Elsener's passion for Catholic education, his commitment to overcoming obstacles and recasting them as opportunities, and his ability to inspire people to advance a common cause.
In recent years, Elsener rallied the entire campus community around retention efforts resulting in a double-digit increase in first-time, full-time retention and the creation of a $35 million Center for Student Success in Life, Learning, and Leadership. In 2017, Marian University graduated its first class of doctors of osteopathic medicine, opened the Paul J. Norman Center as the new home to the Byrum School of Business, and launched a doctoral nursing program.
"We want every student—and the university community as a whole—to take the gifts we have received from a generous God and cultivate them so that they blossom into magnanimous forms of human flourishing," said Elsener.
President Elsener has dedicated his professional life to the mission of Catholic education, and serves as a member of several organizations and boards at the city, state, and national level. As chair of the Initiatives Committee, Elsener has helped the ACCU tackle some of the most pressing issues bearing down on Catholic higher education today: service to a new demographic, financial pressures affecting our economies, and the development of a leadership pipeline.
President Elsener, on behalf of the entire Credo team, we are inspired by your contagious optimism and passion for transforming the lives of students, faculty, and staff at Marian University, and beyond.
To find out more about President Elsener, including his background, experience, and professional accomplishments, please visit his official Marian University bio.
*To be considered for the Credo Courageous Leadership Award, a leader need not be a current or past Credo client.
Share This Post
Recent Posts
Categories