Enrollment Planning: Lenoir-Rhyne University
October 5, 2016
When Lenoir-Rhyne began working with Credo, deposit and yield were not at the levels they wanted to see, and the cohesiveness of the staff was not where they wanted it to be.

Taking Lenoir-Rhyne University to the next level of thriving all started with an Enrollment Planning Strategy focused on rethinking and reprioritizing the entire admissions operation. It was a tall order that included organizing the leadership and staff for success, creating an intentional and consistent communication plan, ensuring a focus on results, and delivering exceptional customer service.
Admissions Partnership: Vice President Rachel Nichols from Credo on Vimeo
Lenoir-Rhyne's Experience Working with credo
Will Lee, Associate Vice President for Enrollment Solutions at Credo, led yield workshops and worked with the enrollment team to energize and prepare the freshman recruiting staff for the challenging yield season ahead. The workshops informed administrators on how to energize and prepare the freshman recruiting staff for the challenging yield season ahead.
At the same time, there was a tremendous opportunity to rethink and reprioritize the entire admissions operation, and Credo was invited to partner with Lenoir-Rhyne through the transition. Working alongside Credo, Lenoir-Rhyne was empowered to tap existing talent to make the recruiting operation stronger, invest in the necessary tools, technology and training for the staff to be successful, and incorporate a stronger system of metrics and accountability.
"It was very valuable to me to have a partner who understood enrollment management and admissions that I could bounce things off of and move through this work together. In Credo I had a partner. It wasn't simply discussion or ideas, it was rolling up our sleeves and spending long hours moving through the work and accomplishing our list of objectives."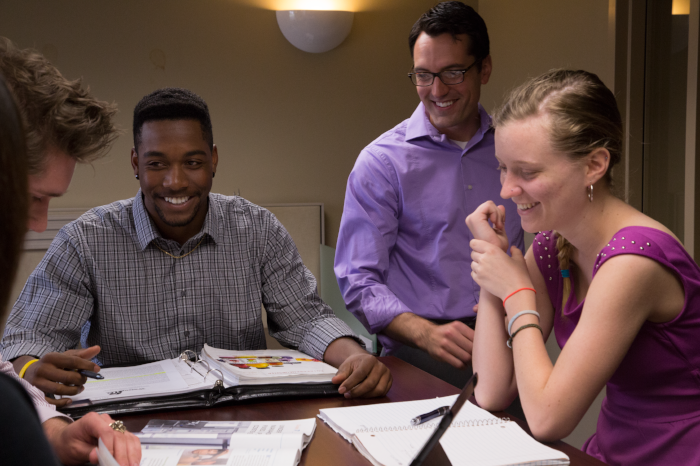 Beyond the successful transformation of the admission team, Lenoir-Rhyne participated in Credo's Admitted Student Research (ASR) which focuses exclusively on factors informing college selection. It validated many successful aspects of their admission team work. More importantly, it provided comparisons with peer and aspirant institutions, and raised awareness to campus partners as to how valuable and how critical the campus visit and guest experience is to prospective students and their families. Lenoir-Rhyne repeats ASR at regular intervals with these established benchmarks, and an eye toward continuous improvement as a thriving institution.
Lenoir-Rhyne's Results
Today, Lenoir-Rhyne has a strategic enrollment plan in place, uses a best practice communication plan for each aspect of the admission funnel, and offers a more engaging and memorable campus visit experience.
The results speak volumes. Applications, admitted students, and deposits are up, and they employ a staff who is excited about and engaged in their work.
"Credo has been a partner in our enrollment trajectory. We set out goals. We met our objectives. We knew what we wanted to do, we've made a plan to get there, and we're not finished yet."

-Rachel Nichols, Vice President for Enrollment Management, Lenoir-Rhyne University
---
Ready to Take the Next Step?
When trying to implement an Enrollment Plan, a higher education consulting firm can help you align your vision, your team and your goals.
to learn more about how we can help you achieve your enrollment goals.

PREV

NEXT