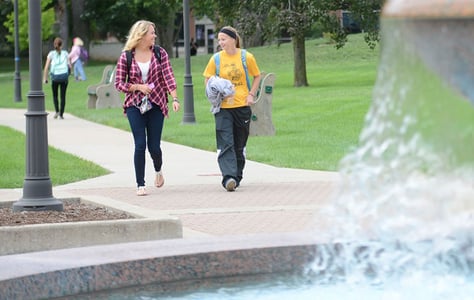 April 17 2019
Marian defines a great Catholic university as one that educates transformational leaders for service to the world. The power of mission, faith, and sense of service to humanity is felt on campus. The campus community uses what they call the "holy trinity" template to guide the creation, funding, and implementation of new programs and strategic initiatives. The three interlocking circles call them to focus on the needs in the community and the world; the vision, mission, passion, and historical competence of Marian; and the economic engine that will fuel and sustain the initiatives.
By using their holy trinity template, they saw the great need for more physicians in Indiana. Despite a robust higher educational landscape in the state, Indiana had only one medical school at a large public institution and ranked thirty-eighth in the country for physician density. Marian put out a bold vision to start a medical school in Indiana and began to raise the necessary funds and build partnerships with area hospital systems. With the launch of its college of osteopathic medicine in 2013, fueled by more than 60 million dollars in donations from private individuals and health care systems, Marian became the first Roman Catholic institution in the country to open an osteopathic medical school and significantly expanded learning opportunities for medical students in Indiana. In 2017, they graduated the first class of physicians, and in doing so have made the institution an invaluable economic resource in the state.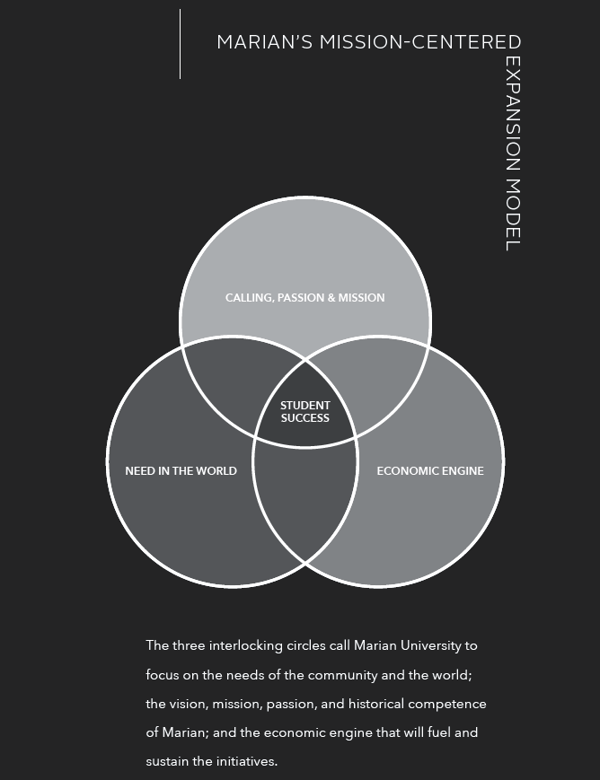 The holistic, innovative approach of the field of osteopathic medicine itself has provided unexpected and welcome challenges to reimagine teaching and learning in other areas of the institution. Osteopathy focuses around a practical, hands-on, whole-person approach to wellness, finding and addressing underlying causes of physical pain and illness. Doctors of osteopathic medicine "pride themselves on their emphasis on preventive medicine, a patient-centered, holistic approach to care, and patient empowerment to strive toward the body's natural, optimal state of structure/function, and self-healing and health. They also utilize diagnosis of and manual manipulation of the neuromusculoskeletal system and stress its interconnectedness with every other organ system in the body." The translation of osteopathy's approach into other schools across the Marian campus has been remarkable, with faculty and staff recognizing and embracing the value of a student-success-centered, holistic, wellness-oriented focus. In addition to changes in the nursing, sciences, and business pedagogy to better reflect the values inherent in the osteopathic tradition, a few specific initiatives are underway to deepen the integration and adoption of more holistic education:
Leadership
Teacher Preparation
Two-Year College
With all these initiatives, Marian has kept their focus on what the community needs, designed programs to meet these needs and the learning needs of identified students--and has done so with agility and speed.
---
How are you affecting student learning environments and outcomes on your campus? Check out some of the great Student Success work Credo engages in, like our signature retention service, Moving The Needle, to find out how we can empower your campus's student success and retention numbers.
---
Download our recently updated case studies, "Thriving Institutions: New Lessons from Research and Practice."
Photo courtesy of Marian University.
Share This Post
Recent Posts
Categories