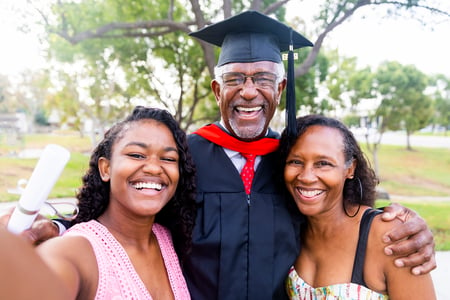 May 21 2019
Almost thirty million working adults in the United States aspire to complete a college degree they began years ago, and more than forty million others could enhance their career prospects, but have never attended a higher-education institution.
These tens of millions of people want to go back to college to pursue their dreams and often become mired in bureaucratic barriers such as transfer credit obstacles; scheduling conflicts; distance to the nearest college, university, or satellite campus; the need for letters of reference and test scores from decades earlier; and a prohibitive cost structure. At a time when we urgently need a growing, skilled workforce to assume the jobs of today and tomorrow, we are putting multiple obstacles in the path of precisely the people who can fill those needs.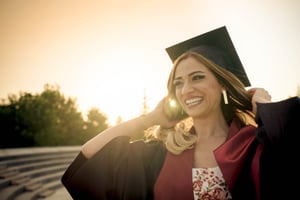 The reality is that we must continue to look beyond traditional-age education into more diverse markets and revenue streams where education is most needed. If higher-education institutions of all sizes and types ignore the emerging adult market within their region or beyond, they tie one arm behind their backs in terms of relevant learning, revenue streams, and balanced fiscal portfolios. Innovative programs for adult learners that connect our mission in higher education to a demonstrated need in our communities and our world will play a critical role in securing the sustainability and relevance of higher education into the future.
Over the decades we have erected a series of false barriers between education and skill development. The reality is that these elements are two sides of the same coin. Students of all ages and backgrounds need to be taught critical thinking, communication, writing, and problem-solving, and they also need and demand skills and abilities specific to particular professions. All individuals who graduate from college today are going to encounter the need for more education, more training, and more skill development during their professional lives.
Consider the sobering demographic and economic realities in this century that directly impact the world of higher education. As many as 30 percent of workers will lose their current jobs due to automation as their jobs are replaced by some form of artificial intelligence. For example, when driverless cars become the norm, some four million people who make a living as drivers will be out of work and will need new careers. Other major industries will be affected, as well. The emergence of new careers as the positive side of this economic upheaval is discussed in depth in many locations, including the Institute for the Future's report predicting 85 percent of new careers. There will be hundreds of thousands of workers seeking to enter these new and challenging careers, and they will need an education to do it.
Over the next decade, we will see that badges, certificates, microdegrees, traditional undergraduate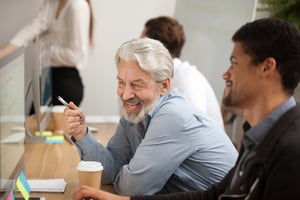 degrees, and a growing variation of graduate degrees will be available and delivered to learners of all ages by the institutions that are innovative and nimble enough to do so quickly and with flexibility. Non-traditional students have varied backgrounds and experiences, and bring passion, dedication, and abilities that can be transformative to an institution. We believe it is a great loss for independent colleges and universities and their student-centered missions not to embrace this enormous niche wholeheartedly, with programs, policies, and procedures that address and support their needs. There has never been another time in history when there was a greater need for adults to have access to deeper thinking, training, and skill development, most accurately termed continuous career education. In the new university, continuous career education must:
Focus on asking the questions "What?" and "Why?" in order to maintain a strong connection to mission and vision while still being responsive to market needs.
Have the agility to meet the needs of emerging careers with relevant programs, partnering with industry and learning designers for rich, rapid curriculum development.
Offer the appropriate modality and companion services that address the convenience, flexibility, and connection necessary for this population to see the hope in completing the next phase of their learning.
University leadership must ask some simple but profound questions about mission: Why wouldn't we want to provide life-long learning opportunities to alumni? Why wouldn't we want to help build a more skilled workforce and create economic opportunity in our communities? Why wouldn't we want to provide an opportunity to those whose career paths must shift in a rapidly changing global economic landscape?
The answer is simple: no school committed to education and empowerment should turn their back on this population and its growing education needs.
The new university must embrace continuous career education to best serve our world.
---
The Explosion of Adult Education: Meeting Society's Needs
Does your institution feel a responsibility to educate learners of any age?
Are there barriers to the education of adults at your institution?
Are there barriers to online education at your institution?
Do you believe that adult students must have the same experience as traditional students in order to secure a degree at your institution?
Is your institution positioned to be able to move at the speed that the learning marketplace demands, and will demand into the future?
Can your institution embrace the experience of professionals in specific fields as credentialed deliverers of online education?
Do you believe you have a responsibility to your community and to your region in the area of continuous career development?
Does your institution believe there is a role for online education in the traditional student curriculum?
Can a mission-central and culturally compatible program for adults make your institution more sustainable financially?
---
Whether you want to improve your adult recruitment, fine tune your program prioritization, or move the retention needle across constituencies, Credo consultants are living out this work every day, and we are here to help your campus.
Contact Credo to start the conversation.
---
Are you enjoying this blog series? If so, you can get the complete text by ordering "PIVOT: A Vision for the New University." Go beyond excerpts and get the full story by ordering your copy today.
---
© Credo and www.credohighered.com, 2018. Unauthorized use and/or duplication of this material without express and written permission from this site's author and/or owner is strictly prohibited. Short excerpts and links may be used, provided that full and clear credit is given to Credo, Credo Press, and www.credohighered.com with appropriate and specific direction to the original content. Please email info@credohighered.com for information on how to obtain a full copy of Pivot: A Vision for the New University or for permission to use excerpts from the book and/or blog series.
Share This Post
Recent Posts
Categories