What is a Moving The Needle Cohort?
A  Moving the Needle (MTN) cohort is a partnership that engages your full campus  community alongside a  group of institutions with a common connection such as vision, mission, or association. Learning from each other, cohort participants develop and implement inclusive campus-wide  student success and  retention outcomes for their campuses and communities.
Why Join a Moving The Needle Cohort?
MTN is built for campuses with retention rates ranging from around 60% to 85% and each cohort offers flexibility to meet each campus where they are.
Together, cohorts engage in deep institutional change to strengthen their collective capacity to support students from matriculation to graduation. They research their challenges
and opportunities with student retention, identify the most promising areas for progress, and strategically leverage their shared commitment to advance opportunities for students to succeed.
Benefits of Participating in a Cohort
Campus & cohort community learning from each other's strengths

Peer networking & professional development

Multi-institution body of student success research

Alignment with regional, state, and national opportunities

Extended learning community to activate inclusive, sustainable cultural change
The ultimate results of this collaboration are expected to be improved retention rates, a corresponding increase in institutional net revenue, and the strengthening of each school's mission and institutional culture.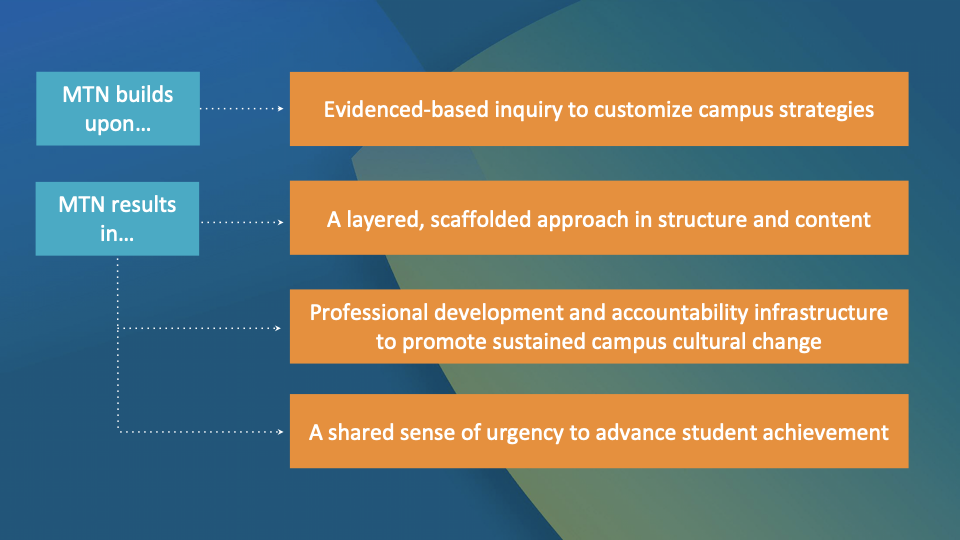 Outcomes of Participating in a Cohort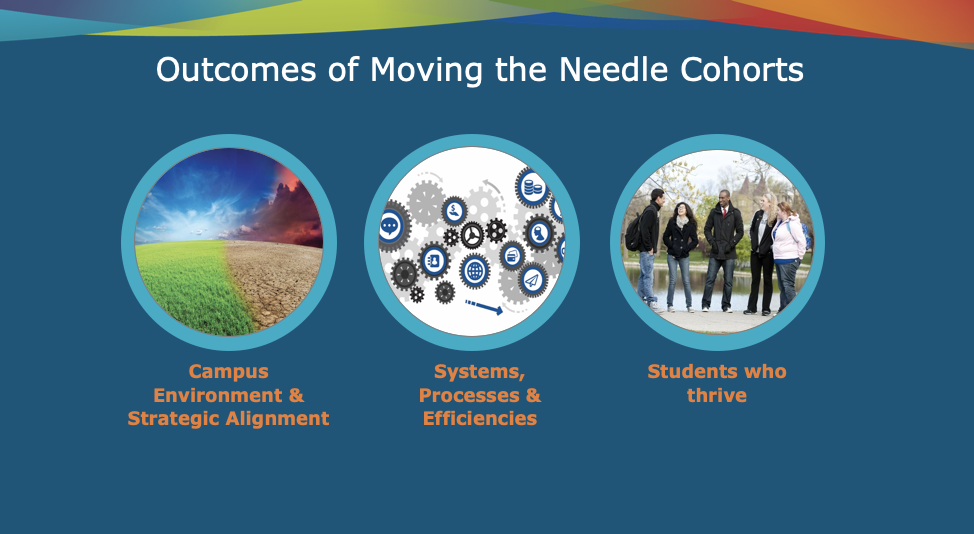 1. Campus Environment & Strategic Alignment outcomes include a long-term strategic retention plan, enhanced departmental partnerships, ongoing leadership development for mid-level talent, and a comprehensive list of gaps or vulnerabilities hindering student success.
2. Systems, Processes, & Efficiencies outcomes include process maps of departmental operations, policy and practice review for key areas affecting students' progression, improvements in critical "business" processes, cross-trained staff to maximize efficient service, and streamlined technology and systems integration.
3. Thriving student retention outcomes include improved fall-to-fall retention rates, reduced gaps in retention for students from underrepresented groups, and higher graduation rates.
Are These Outcomes Sustainable?
In one word: yes! The outcomes from a Moving the Needle cohort are sustainable for campuses because they: 
are mission-centric, mobilizing campus around your "why."

teach the art and science of student success.

leverage high-impact practices to transform student experience.

remove barriers to collaborative, cross-departmental work.
Our MTN cohorts are also an accessible & affordable step towards collaboratively building student success on your campus & across your cohort community.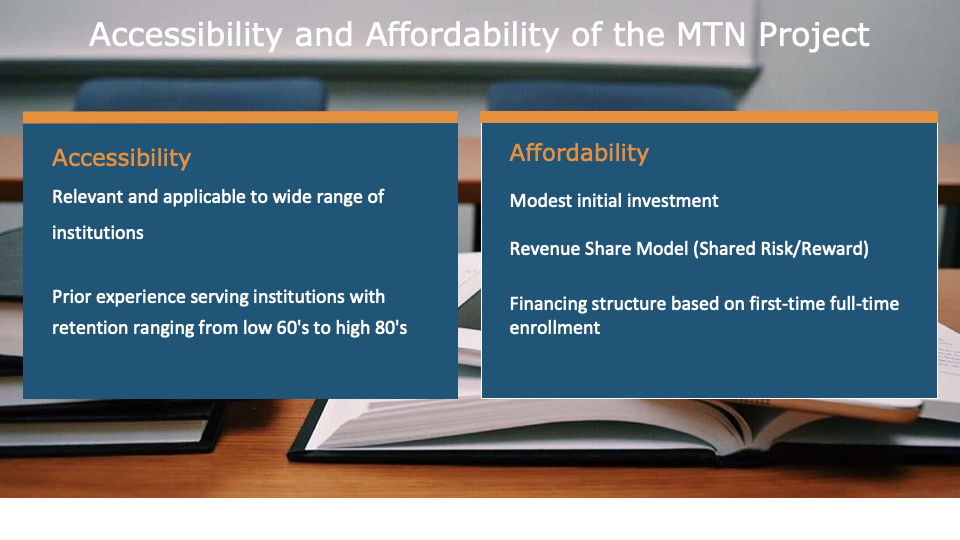 The Meaning of this Work to Students & Their Success
The complex nature of student success requires an integrated, campus-wide plan with robust administrative support, strong belief in student potential, and implementation of targeted strategies. MTN is built upon a holistic and scalable approach that guides campus cultural change to foster inclusive, equitable, and affirming environments where students are set up to thrive
Through a strengths-based approach, MTN guides the assessment of student experiences and outcomes related to:
individual and community identity.

individual readiness, motivation, and investment.

a

cademic integration.

sense of belonging

and inclusion.

social and emotional engagement.

pervasive

support networks.

perception of the value of their education.

financial aptitude and attitudes.

career and professional clarity.
Our emphasis on these dimensions will position each campus to be "student ready" and well equipped to help students reach their highest potential.
---
Talk to Credo About Student Success
Are you a leader at an institution, consortium, or association who would like to speak to our Moving The Needle Champion, Joretta Nelson? Please fill in the form below to schedule a complimentary 30-minute call with Vice Chairman & Founder of MTN / Owner,
Joretta Nelson
, Ph.D., and a member of our team will be in touch within one business day regarding your request. Thank you. We can't wait to talk to you soon.