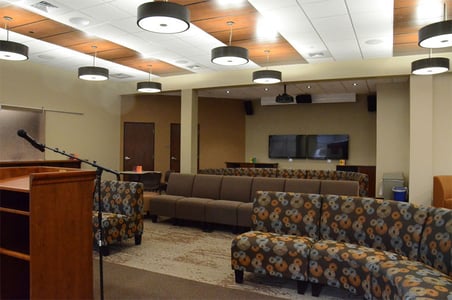 April 3 2018



"From 2007 to 2016, higher ed campuses grew by more than 10 percent in building space, outpacing the 8 percent growth in enrollment during the same period...

"'Higher ed administrators are being told they have to build new space to accommodate all these new programs, when in fact, so much of the space they have is underutilized...The focus needs to be more on how that space gets changed to accommodate the needs of these evolving programs.'"

-from "How colleges manage inner space: Flexible design, more efficient classroom usage, and integrated planning all help institutions get the most out of interior building space"
What we know: comprehensive campus master planning (1) begins with available resources and (2) affirmatively answers the question: are we making the best use of our spaces? Space utilization assessments are essential to determining actual need. Determining the campus's space needs requires asking the right questions of your constituents and being willing to take into account the variety of answers you get--and then do something about identified inefficiencies and spaces that are underutilized.
The "and" spaces mentioned in the article above—spaces that are able to be used for multiple purposes—are achieved through an approach that seeks to develop "thick" spaces; i.e., spaces that serve different purposes across the span of a day that are utilized by a variety of users within the university community. Multi-use spaces are intentionally designed and constructed with versatility in mind, serving more students and faculty on a more consistent basis than traditional classrooms. The classrooms of yesteryear tend to sit empty for large portions of the day; modern multi-use spaces tend to be utilized more regularly as their layout and functionality contribute to collaborative, living-and-learning communities.
A campus planning process that is both comprehensive and inclusive of the whole university allows for these "thick/and" spaces to be developed in a manner that addresses multiple needs at once, creating efficiencies in academic planning and saving resources like space, time, and dollars.
What questions are you asking your campus constituents about space utilization? What are you prepared to do with the answers?
Share This Post
Recent Posts
Categories