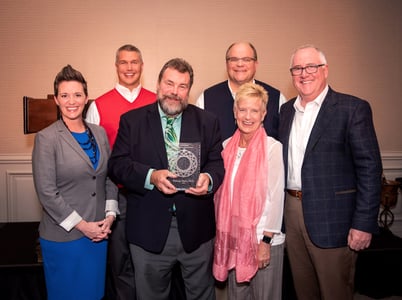 February 24 2020
A Reflection on Courageous & Collaborative Leadership
When Dr. William Craft, President of Concordia College at Moorhead, spoke of the leadership of his friend Dr. Thomas (Tom) Flynn, President Emeritus of Alvernia University, Senior Fellow with the ACCU & AGB, and recipient of the 2020 Courageous Leadership Award, he said the following:
"Tom gathered around him—by force of character, by imagination, by courage—a group of friends who would transform liberal learning at the Mount and deepen its faith identity. The friendships he built shaped the work of our students, thrust our college onto the national scene of curriculum reform, and along the way, changed our own lives."
He went on to say that his friend Tom Flynn built a campus that was most importantly "diverse and more ready to fulfill the promise of inclusive education that must be the driving imperative of American higher education." Dr. Craft made it clear that Dr. Flynn's leadership continues to be a living testimony to the importance of relationships, partnerships, community building, and collaboration. Dr. Craft continued, "Tom was always branching out across human borders: borders of faith, of learning, and of community."
What an inspiration to us at Credo as we celebrate our 25th anniversary as a firm this year! We are continually reflecting on and deepening our understanding of courageous and collaborative leadership, one of our firm's founding core values. The more we think about this value, and the more examples we see of successful leadership, the more deeply we understand the importance of the overlap in courage and collaboration in leadership.
In 25 years, we've partnered with over 400 campuses and thousands of leaders. We've seen so many examples and so many different versions of what leadership can look like. From our Aspiring Leadership workshops, to our Strategic Advising with presidents and senior cabinets, to our meetings with you at annual events, we continue to notice and reflect on how the most impactful leaders are those who are courageously collaborative, ensuring that success is not theirs alone, but rather belonging to their team, their campus, and their entire community. These leaders are those we all know as transformative, innovating their campus culture, inspiring growth around them, and putting constituents and entire communities on mutual trajectories for growth, even after their own tenure is over.
We can't help but be reminded of a notable panel from our 2019 Credo Women in Leadership Institute in which two of our partner presidents from universities in neighboring Nebraska towns shared their emerging model of future-focused, transformative, integrative living-and-learning. Deb Carlson, president of Nebraska Methodist College and Jody Horner, president of Midland University, wanted to increase access for their students to services like mental health care, extracurriculars like football games, certifications, on-the-job training, and more, so they led their campuses on a journey, together, forming what came to be known as an alliance.
Through this alliance, students get increased access across the two institutions' resources and programming: academic offerings, online education, on-the-job trainings, certification and professional licensing programs, athletic events, and more. Because of Nebraska Methodist's connection to Allied Health, students from both institutions now have increased, streamlined access to healthcare classes, experiential learning, and licensing, and local hospitals have a growing pool of highly qualified health professionals available to provide the best of care to their patients. The entire community is excited about this transformative collaboration.
Deb Carlson, president of Nebraska Methodist, describes their alliance in this way: "What we're doing is we're taking down barriers and creating opportunities." She and Midland University President Jody Horner together decided to "push the boundaries on what a strategic partnership could look like."
We celebrate with our friends across higher education when we find ways to be stronger together. We have seen so many collaborations and partnerships play out to the success of institutions in such interesting ways, and we invite you to learn more about some of these exciting stories here:
Partnerships take leadership and leadership takes courage. We applaud all the brave leaders across higher education who forge these types of collaborations that enhance the value proposition of your own institutions, all the while strengthening your neighbors, communities, regions, and our entire interconnected network of higher education institutions, consortia, and external partners. We are honored be in this together with you. We believe the best is yet to come.
As we move into 2020, we leave you with this reflection from Tom Flynn, our recent Courageous Leadership Award recipient:
"Courageous leadership is far from a one-off--a big idea or bold decision. It is found in always-faithful stewardship of institutional and personal core values, whether through brilliant innovation or painful cost-cutting. It requires passionate devotion to our people and to community-building, on and beyond the campus.

"Embracing responsibility rather than shifting blame; planting seeds for others to cultivate--these are ways we all practice courageous leadership."
What traits are most valuable to you in a leader? What traits do you believe are timeless as related to leadership? What traits of your own leadership are you seeking to cultivate?
We are honored to reflect upon and celebrate our shared history with you, and as we look ahead, we are so excited to build the future of higher education with you!
The Credo Team
---
For additional information about institutions forging partnerships and making pivots, please reference these additional updated Case Studies and leadership bios, created for panel discussion at the 2020 CIC Presidents Institute.
Share This Post
Recent Posts
Categories