Our Team
Ed Rowe
Consultant & Operations Manager for Leadership Strategies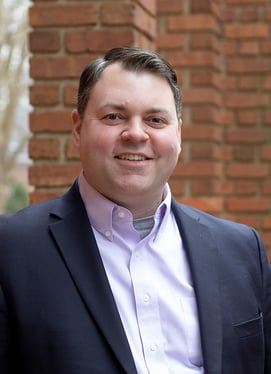 Ed Rowe (he/him/his) spent a more than a decade working within colleges and universities, counseling institutional leaders. In the process, he discovered that open and transparent communication with campus constituents is the most important factor when you're trying to build trust and achieve strategy goals. That's a principle that guides him today as a leadership strategies consultant working with presidents, chancellors, senior administrators, and boards.
An Expert in Higher Education Strategic Planning
Our clients benefit tremendously from the expertise in strategic planning, crisis management, and board governance Ed gained while serving institutions small and large. As chief of staff at Swarthmore College, he helped the president navigate a range of policy and communications challenges and worked with the board on long-term strategic priorities. As the director of projects and planning at the University of Denver, he coordinated an enterprise-wide strategic planning process that engaged more than 4,000 constituents. In his role with Credo, Ed provides structure and helps lead facilitations that activate our clients and contribute to their overall project goals.
"I gained so many skills as a chief of staff, and with Credo I have an opportunity to apply my lessons learned at a broad range of institutions."
A Talent for Solving Puzzles—In and Outside of Work
A gifted listener, Ed can identify patterns in what others consider chaos, and he's unafraid to peel back the proverbial layers of tough conversations. His commitment to tackling hard things head-on extends to his personal life, including that time he nearly lost a game of chess to his six-year-old nephew.
More About Ed
Client & Project Portfolio

Board Development | Ohio Foundation for Independent Colleges

Board Development | Roger Williams University

Strategic Planning | MidAmerica Nazarene University

Strategic Planning | University of California-San Francisco

Strategic Planning | Council of Colleges of Acupuncture and Herbal Medicine

Strategic Planning | Wisconsin Association of Independent Colleges and Universities
Strategic Planning | Independent Colleges and Universities of Texas

Education & Certifications

B.S., English, Pennsylvania State University

M.S., Management, University of Denver

Chief of Staff and Secretary of the College, Swarthmore College
Director for Projects and Planning, Office of the Chancellor, University of Denver
Special Assistant to the President, Swarthmore College

StrengthsFinder Profile

Empathy

Responsibility

Developer

Individualization

Communication
Leadership Strategies Team
Ed is part of the Leadership Strategies Team. He works alongside this team of talented people.