Our Team
Michelle Samuels-Jones, Ed.D.
Senior Affiliate Consultant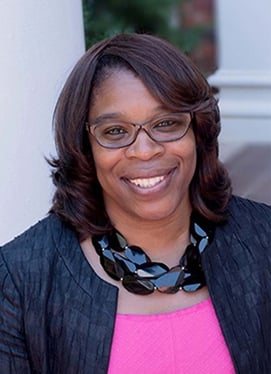 Michelle works with Credo's retention, campus life, and student engagement initiatives designed to help students thrive in and outside the classroom. Michelle seeks the best opportunities to improve the factors contributing to student success on college and university campuses. She is known for her collaborative and comprehensive approach to assess the student experience, promote campus readiness, and identify the right data-driven solutions to empower institutional change.
Michelle has been working in higher education since 1995. She was the Vice President for Student Success at Credo before becoming an Affiliate Consultant. Prior to joining Credo, she served as the Dean of the Spring Lake Campus at Fayetteville Technical Community College (FTCC) where she provided strategic direction for the academic, co-curricular, and facilities plan for the College's branch campus. Prior to FTCC, she worked as the Associate Provost for Student Affairs at the University of Maryland University College (now UMD Global Campus). In this role, she served as the Chief Student Affairs Officer where she provided visionary leadership for 160 staff members in the US, Asia, and Europe; led the design and implementation of innovative student life initiatives; and helped to re-envision the development and delivery of student affairs practices and opportunities to deepen student engagement in the virtual environment. At UMUC Michelle additionally served in the division of Administration & Finance, and also provided leadership as the Interim Registrar. Michelle has held Assistant/Associate Dean roles in student affairs at Lehigh University and the University of Virginia. She earned her B.A. and M.Ed. from the University of Virginia and received her doctorate from Northeastern University.